Super Bowl 2012: Tom Brady Tries to Share Some Swagger with Uggs Love
January 27, 2012

Elsa/Getty Images
Tom Brady has it all, and he is about to give some of it away. 
Rest assured that he will not be sharing his timely passes or poise under pressure, and not Gisele Bundchen. 
No, the Patriots' quarterback is making it rain with swagger. As Jets beat writer Jenny Vrentas tweets, the Super Bowl Patriots are about to get stylish, or ugly depending on your definition of fashion.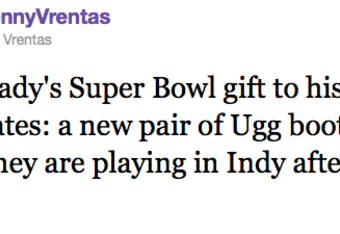 I know what you are all thinking. Thanks, Tom, some awesome women's boots to wear before the big game. Ahh, but that is outdated thinking. As some of you might now, the good people at Ugg have released a selection of men's boots and shoes. 
Before you scoff at the thought, take a look and see for yourself how sweet they look. Then there is this commercial spot for Tom Brady rocking the Uggs. Take a look if you don't mind motion sickness. 
Okay, here's the thing. Tom Brady is the goofiest superstar in sports. Yet, he somehow pulls off cool. This is like Steve Urkel running the Patriots to a Super Bowl title and marrying the prom queen. 
Times have changed and nerds are in and Uggs are for men. Just learn to accept that and it will make the remaining Brady years far less painless. 
Now for the new kicks. I know need to see pictures of Vince Wilfork trying on his new metro sneakers next to little itty-bitty Wes Welker. 
The Patriots may be walking into their doom, but they will be doing so in style. These Uggs are simply sick and I don't care what you say. 
Make fun of Brady and his pony tail, his emo way of crying at every turn or his inability to dance without looking like Screech Powers, but don't scoff at the shoes. 
Uggs will take the Patriots to the Super Bowl, now let's see what they do with them.