McKenzie Makeover: Why His House Cleaning Is Great for Oakland Raiders' Future
January 27, 2012

Ezra Shaw/Getty Images
Reggie McKenzie didn't hesitate when he punctuated his first Oakland Raiders press conference with the following: "I'm going to keep this short, 'cause we've got a lot of work to do."
And he wasn't kidding, either.
In just three weeks time, the new Raiders general manager has effectively started rebuilding and putting his own touches on the Raiders' franchise.
And that type of house cleaning is an excellent stepping stone to a more successful Raider team.
Keep in mind, McKenzie is not just making quick decisions. He is also showing confidence in his choices. And he made it very clear in that first Raiders press conference that he would be heading an "era of change," and that he was a "roll-up-your-sleeves type of guy" who was "proud to be in a leadership position."
Now, he seems to be making good on that very work ethic.
So, is this McKenzie trying to prove that he's no Al Davis? Or is he just flexing his GM muscle and showing that he has this football franchise under his control?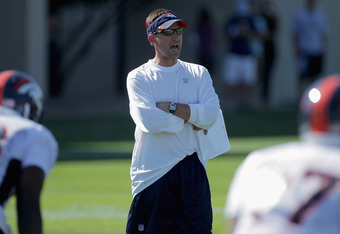 Doug Pensinger/Getty Images
McKenzie's already shown he's not following in Davis' shoes when he hired former Broncos defensive coordinator Dennis Allen, the first defense-focused coach to run the Raiders since John Madden.
Yes, the same John Madden who was hired by the Oakland Raiders back in 1969.
But that type of defensive mindset will be beneficial for a Raiders team that gave up the third-highest points total in the franchise's history in 2011.
According to players who have played for Allen in the past, the man is a workhorse and means serious business. So it doesn't seem like he'll putting up with the 163 penalties for 1,358 yards that Oakland racked up last season.
Sounds like McKenzie found exactly what he wanted in a head coach, and he did it in a rather speedy manner, without the drama that Davis used to bring to the table.
It was only at the beginning of this week that sources found out that McKenzie had already started conducting interviews for the vacant head coaching position in the House of Silver & Black. Sources close to the GM were saying that the Raider organization hoped to have their list of head coach candidates narrowed down no later than Saturday.
Then, in the blink of an eye, McKenzie had a new head coach before week's end. Allen signed a four-year deal Thursday, not even a full day after McKenzie indicated that he and the former Broncos defensive coordinator had made a "handshake agreement."
This sense of speedy rebuilding mirrored the swift and confident nature with which McKenzie fired former head coach Hugh Jackson.
Call it fast.
Call it a good fit at the right time.
Call it whatever you want. It has been one busy and effective couple of weeks cleaning house for the Oakland Raider manager.