Iona Basketball: Gaels Seek to Rebound at Fairfield and St. Peter's
January 27, 2012

The Iona Gaels try to get back on a winning track with games this weekend—at Fairfield Stags on Friday and in Jersey City against the St. Peter's Peacocks.
Iona goes into weekend Metro Atlantic Athletic Conference play with a 15-5 record 7-2 in the conference. Tonight's game at Fairfield will be at the Webster Bank Arena in Bridgeport starting at 7 PM. The Stags are 10-9 and 5-3 in the MAAC. Iona's RPI stands at 51 and Fairfield 146. The game will be broadcast nationally on ESPNU with Doug Sherman and Andy Katz describing the action. 
The Gaels are dealing with a disappointing 65-62 loss Monday at Siena. The Gaels went out to a 20-2 lead led by the scoring of guard Scott Machado and inside play of forward Mike Glover. The Gaels led by 10 at the half, 39-29, but cold shooting kept Iona from pulling ahead. 
Siena tied the game at 59 with 3:15 left. After Randy Dezouvre gave Iona a lead 62-61 with 2:18 left, the Saints' Kyle Downey hit a jumper to provide a one-point lead with 51 seconds left. Free throws by Rob Poole and a missed three-point attempt by Kyle Smyth finished off the night, creating a celebration for the the large Siena crowd. 
The Gaels just could not make a shot down the stretch.
Mike Glover had 19 points and 12 rebounds, but shot 6-of-14 from his low-post position, which is very unusual, as he has been a leader in the NCAA in shooting percentage above 65 percent. Point guard Scott Machado had 16 points but just three assists on the night—well below his NCAA-leading 10 per game.
Siena did a good job of cutting off the Machado-to-Glover pass under the basket which was so automatic against Rider the Friday night before.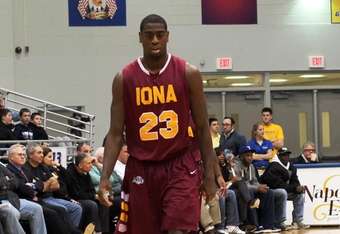 Lamont Jones had 14 points but the Gaels had only nine points off the bench all from Randy Dezouvre, who had six on 3-of-6 shooting. Sean Armand did not score, after dropping 32 against Siena at Madison Square Garden early in January.
The 3 and 4 forward positions were very quiet on the night, with Taaj Ridley scoring one point in 16 minutes. Armand did not score in 17 minutes, while Smyth had one three-pointer in seven shots.
Head coach Mitch Buonaguro's Siena team did a very good job of cutting off the Gaels' passing lanes. Four Saints in double figures helped: O.D. Anosike had 17 points and 15 rebounds; Kyle Downey 16 points; Evan Hymes 11 points and Rob Poole 14 points.
Going into Friday's matchup at Harbor Yards complex in Bridgeport, the Fairfield Stags are led by the 15.9 points and eight rebounds per game provided by 6'5" senior Rakim Saunders. Junior guard Derek Needham averages 11 points per game. At center, 7'0" senior Ryan Olander has 10.3 points and 36 blocked shots.
Sunday afternoon, the Gaels will play at Saint Peter's in Jersey City. The Peacocks are struggling at 4-17 on the year and 3-7 in the MAAC.  Last year Jon Dunne's St. Peter's team produced a major surprise defeating Fairfield and Iona in the MAAC tournament to be the conference representative in the NCAA tournament.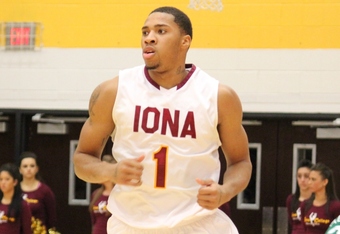 Just two Peacocks average in double figures with Chris Prescott at 12.3 points and Darius Conley at 11.4. St. Peter's is plagued by poor shooting at 40.4 percent and overall low scoring at 60.4, 318th in Division One.
Iona will be looking to get their passing game going from Scott Machado to Glover, Jones and Kyle Smyth. Also, they need to get the bench involved. When Sean Armand is hitting his three-point shot, the Gaels score very aggressively with the defense focusing on Glover and Jones.  They need junior forward Taaj Ridley to step up under the boards on both ends of the court.
Ken Kraetzer covers Iona basketball and West Point football for WVOX 1460 AM in New Rochelle, NY and Sons of the American Legion radio. Receive his updates on Twitter @SAL50NYRadio.