Tim Tebow: Would You Trade Your QB and a Draft Pick for Tebow?
January 27, 2012

Al Bello/Getty Images
A lot has been written about Tim Tebow over the last few weeks. Everywhere you go it seems another case of Tebow Fever has broken out. But once you get through all the hype, muscles and questions about religion, is he actually any good? People are divided on whether he has real talent or if he is a bust and owes all his good fortune to Denver's defense.
Tebow is coming back as the starter for the Denver Broncos next season, so we will get to assess him further, but how will John Elway and John Fox play him? Are they going to allow him to air the ball out or will they stick with the run-heavy offense?
Elway has stated that Tebow has earned the right to start. His performance against the Pittsburgh Steelers in the playoff would certainly support that, but at other times this season he hasn't looked like a starting quarterback at all.
End-of-year statistics show Tebow earned a passer rating of 72.9, one of the lowest in the league, but people have labeled him brilliant, terrible, lucky, blessed and all of the above.
So would you trade your quarterback and a first-round draft pick for him?
The answer if you are a New Orleans Saints, Green Bay Packers or New England Patriots fan would have to be an emphatic no. You wouldn't trade either Peyton or Eli Manning (even if Peyton doesn't come back, you still wouldn't give up a No. 1 pick). I can't imagine the San Diego Chargers giving up Philip Rivers.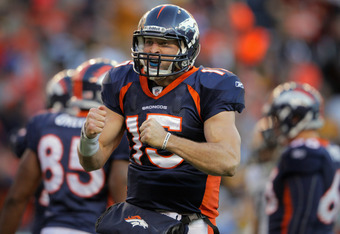 Doug Pensinger/Getty Images
The Detroit Lions would be crazy to give up Stafford plus a draft pick. Ben Roethlisberger, who was the last quarterback to get Tebowed would also be hard to give up, even if it seems he gets hurt every season. Matt Schaub of the Houston Texans deserves another chance, but everyone else would appear to be fair game, including Romo and Ryan of the Atlanta Falcons.
Tony Romo had a passer rating of 102.5 last season and he's a good quarterback, but it seems he is destined never to get to the Super Bowl with the Dallas Cowboys. They haven't made the playoffs the last two years, and you have to wonder how much longer Cowboys owner Jerry Jones will wait.
Matt Ryan is another good passer, but you get the feeling when it comes to playoff time, Atlanta just won't make it to the Super Bowl with him at the helm. Joe Flacco from the Baltimore Ravens is another.
I'm on the fence when it comes to Alex Smith of the San Francisco 49ers and Cam Newton of the Carolina Panthers. Smith had a good year, and Newton did well in his rookie year, but we are talking about the phenom that is Tebow here. So I could see people taking Denver's No. 15 over both of them.
Mark Sanchez of the New York Jets had a passer rating (78.2) was only slightly higher than Tebow's. Sam Bradford of the St. Louis Rams didn't look like the same player as last year,and his rating was worse at 70.5.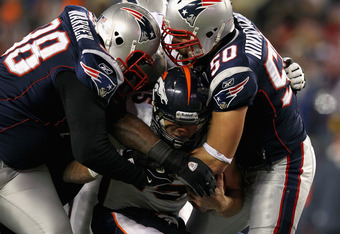 Al Bello/Getty Images
Michael Vick might have one more season in him, but the Philadelphia Eagles never lived up to expectations this year, so going with a new young quarterback might be a good idea.
From the AFC; the Buffalo Bills, Miami Dolphins, Cincinnati Bengals, Cleveland Browns, Tennessee Titans, Jacksonville Jaguars, Kansas City Chiefs and Oakland Raiders could all take the Broncos quarterback, though the thought of Tebow in a Raiders jersey seems kind of wrong.
From the NFC: The Washington Redskins, Chicago Bears, Minnesota Vikings, Tampa Bay Buccaneers, Arizona Cardinals and Seattle Seahawks could all clear room on their roster for Tebow.
Tebow does give a team options, he can run and he knows how to win close games. He has come in for a lot of criticism with regard to his throwing but he did beat the Steelers with a pass. The problem with his passing is that Denver never really let him throw it, unless they have a 3rd-and-long.
It's always run on first, run on second and, if it's short yardage, run on third down. It seems Tebow only gets to launch the ball if the Broncos need eight yards or more, but opposing defenses have cottoned onto this. They anticipate the pass, which often results in an incompletion and skew his passer rating downwards.
I like watching Tebow, both when he's good and when he's bad. I enjoyed seeing him beat the Steelers, but also found pleasure in seeing him get pulverized by the Patriots. I can't even decide myself what I think about him. Whatever your view of him, he does have buzz.  
What do you think? Would you take him as your quarterback?