NHL All-Star Game 2012: Flyers' Scott Hartnell Deserved Bid All Along
January 27, 2012

Jim McIsaac/Getty Images
When the 2012 NHL All-Star roster was announced, Scott Hartnell's name was noticeably absent from the list. 
Given that the concept of Sunday's game is to showcase the league's best talent, many were left scratching their heads when Hartnell—the NHL's sixth-leading goal scorer—was initially left out of the mix.
"Yeah, it was a little disappointing, not going to lie," he said several weeks ago about being snubbed. "I've had a good season thus far, our team's had a great season thus far, we're right at the top of the Eastern Conference. I thought there'd be an outside chance. But it wasn't meant to be. I can't be worried about it."
Hartnell, 29, could have reacted to the bad news any number of ways. He chose to use it as motivation, immediately proving the voters wrong by scoring seven goals in his next six games. 
Then, after Jonathan Toews bowed out with an upper-body ailment, Hartnell was finally named an All-Star for the first time in his career. 
"I got a call from Brendan Shanahan and he told me to kind of keep it on the down-low, but it was pretty exciting," he said. "It was right before bedtime and my heart was racing. I got a little nervous too. There's been so many emotions and it's been a good season so it's nice to be rewarded with the selection."
While it took several injuries to get Hartnell on the All-Star roster, make no mistake—he deserved it from the beginning. 
Playing alongside future Hall of Famer Jaromir Jagr and fellow All-Star Claude Giroux, Hartnell is putting together his best campaign to date, tallying 25 goals, 44 points and a plus-18 plus/minus rating through 48 games. While the Saskatchewan native has a reputation as an agitator, he's recently emerged as one of the most dangerous power forwards in the league—something that hasn't gone unnoticed by his head coach.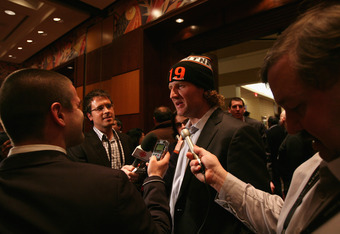 Bruce Bennett/Getty Images
"He's had a tremendous year for us," Peter Laviolette said. "I think he's a very important piece, not only on the ice, but in the locker room as well. He's a glue guy, he brings people together, brings teams together. He's got a great personality, and his play on the ice this year has been terrific."
Hartnell's original omission exemplifies the flaws in the current All-Star selection process, which is more of a popularity contest than anything else. The former first round pick's reputation as a gritty, in-your-face player has earned him his fair share of enemies through more than a decade in the league, undoubtedly affecting the number of votes he received from fans. 
And while the NHL All-Star Game is typically filled with an underwhelming amount of physicality (and consequently an underwhelming amount of excitement), Hartnell's abrasive style of play should add an interesting element to Sunday's matchup. Despite being selected in the 17th round of the Fantasy Draft, don't be surprised if he ends up putting together one of the game's more noteworthy performances.
Hartnell will be joined by teammates Giroux, Kimmo Timonen, Matt Read and Sean Couturier for this weekend's festivities.