Tampa Bay Buccaneers: The Uncertainty in Hiring Greg Schiano
January 26, 2012

Jim Rogash/Getty Images
It was a battle between a fired 6-6 coach at Texas A&M and a coach that had just won the New Era Pinstripe Bowl. In the end, the new scarlet knight of the Buccaneers' broken round table finally prevailed.
Greg Schiano, mystery man No. 2 for the Glazer family, is the new (at least we think) coach of the Tampa Bay Buccaneers.
Joe Philbin took his talents to South Beach, pretending he didn't see Mark Dominik trying to run after him as Philbin passed central Florida.
Wade Phillips didn't want anything to do with Tampa Bay because not even bums would want to go there.
Then there's Chip Kelly, who did what he does best and called an audible, leaving the Bucs at the altar.
So now the Glazers, in an almost purposeful fashion, have hired a coach in a move nobody saw coming. Nothing better than having a little bit more of Big East football in Tampa, right?
Alright, sure, it's not an exciting hire, and I don't consider it to be an overall good one either, but who else were the Bucs going to hire to knock our socks off?
So while the expectation bar seemed to get lower and lower in this game of coaching search limbo, that same bar was pretty close to the Ray-Jay turf before the game even began.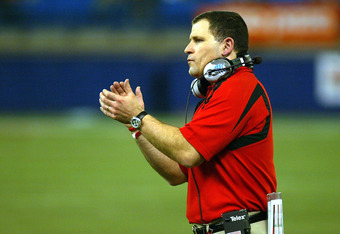 Dave Sandford/Getty Images
The Tampa faithful won't love this hire. I don't blame them. If Marky-Mark and the Glazer Family Band wanted to sell tickets they would have just hired Marty Schottenheimer.
But as much as money (getting it, not spending it) means to Malcolm Glazer and his descendants, they felt hiring Greg Schiano would be good in the long-run.
What Schiano did at Rutgers was nothing short of extraordinary. But Tampa Bay and Piscataway are two far different places. But in spite of that fact, a coach that can right a ship (no pun intended) is exactly what the Bucs need.
They also need discipline. With Schiano, you can check that off the list as well. He doesn't have NFL head coaching experience, but has coached in the NFL.
The rumors that the Buccaneers would hire a "retread" coach was nothing more than Dominik picking the brains of guys like Schottenheimer.
And speaking of listening to NFL head coaches, Darth Hoodie, aka Bill Belichick, has given the Bucs his blessing, with his high remarks of Schiano.
And to a degree he and the Buccaneers are right. Schiano will be in control of this team and will be a leader with the headset. Overall, he just seems to an NFL-type coach.
But is right for the Buccaneers? Wasn't it the idea to get an offensive-minded coach? Now with the hiring of Schiano, it's anyone's guess on who the offensive coordinator will be.
Truth is, there are far more gaping holes for the Bucs than the one that resides between Schiano's front two teeth, and many of those holes are on the defensive side of the pigskin.
So how should we react to this hiring, the one of a coach 28-48 in-conference at Rutgers and one that's proudest moment in football might be winning the Texas Bowl?
Well, there's no denying the great uncertainty with this hiring. But if there is one thing to be sure of, it's that the Bucs made a better selection than Mike Sherman.
And besides, Greg Schiano looks good in red.