Giants vs. Patriots: Star, Score and Stat Predictions for Super Bowl 2012
January 26, 2012

Donald Miralle/Getty Images
With over a week to go until Super Bowl XLVI kicks off in Indianapolis, there's plenty of time for the "predicted favorite" pendulum to swing back and forth between the New England Patriots and New York Giants.
It's not too early, however, to take the temperatures of both of the Super Bowl contenders and apply it towards predictions as if the game were this weekend instead of next week. These previews help us understand what exactly needs to go right for both squads in order to walk out of Lucas Oil Stadium with the Lombardi Trophy in hand.
Here are early predictions for what could possibly happen on Super Bowl Sunday.
Star of the Game

Dating back to Super Bowl XXXII in 1998, an offensive player has walked away with the Super Bowl MVP honors 12 of 14 times. Only once in that span did a running back (Terrell Davis of the Denver Broncos) win the award. Every other time it's been a quarterback or wide receiver.
Keeping with the high likelihood an offensive skill position player is the star of the game, it's hard to pick against New England tight end Rob Gronkowski right now. Tom Brady is feeding Gronkowski like he's an addiction. When it comes to red zone looks, he locks on to No. 87 first and then sees if his other weapons are open.
The breakout star in 2011 is currently battling an ankle injury and hasn't practiced yet this week. This shouldn't be a concern, though, because of the time off before February 5th.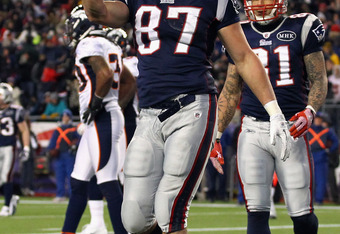 Al Bello/Getty Images
Adding in his two postseason games against the Broncos and Baltimore Ravens, Gronkowski has caught 105 balls this season for an all-time tight end record of 1,559 yards and record-breaking 20 touchdowns. He's a key weapon, and he will be a favorite choice of Brady against a questionable Giants secondary.
Score of the Game

Super Bowl XLVI will be won or lost depending on how the New England offense operates against the front four pass rush of the New York Giants defense.
When these two teams collided at Super Bowl XLII, neither team had what you would call a sexy first-half performance moving the football. The Patriots had less than 100 yards of total offense and seven points to show for it. The Giants did not fare much greater, as they had just a mere field goal, but they played a hell of a defensive first half.
This rematch in Super Bowl XLVI should have more offensive fireworks, as both teams have issues in the secondary. New England is the worst team in the league against the pass, and New York isn't far behind at 29th-worst.
Given the individual matchups, the Patriots appear to have more versatility and skill on offense. It's not going to be a blowout by any means, but the Pats should hoist the Lombardi Trophy and claim their revenge from 2008.
Patriots 27, Giants 21.
Bold Stat Prediction
As previously stated, the game comes down to whether the Giants can generate pressure with their front four. This is incredibly important because of the tight ends the Patriots feature. With Gronkowski on one side and Aaron Hernandez on the other, New York can't blitz more than five guys regularly. These linebackers will need to stay back and defend against the tight end, or else New England will torch the Giants down the seams.
Because New York may hesitate to blitz from the linebacker position, I can't see the Giants accumulating a high amount of effective blitzes against a veteran offensive line. If they don't hit home with the combination of Osi Umenyiora, Jason Pierre-Paul, Justin Tuck and Mathias Kiwanuka on the defensive front, New York won't stand a chance.
The low amount of blitzing and playing the middle of the field in zone coverage to help contain the linebackers will turn the Giants' pass rush from a jet stream to a leaky sink drip.
For a bold prediction, how about the Giants not recording a single sack on the Patriots all game long?
Brett Lyons is a Featured Columnist for Bleacher Report. Unless otherwise noted, all quotes were obtained firsthand or from official interview materials. 
Follow Brett Lyons on Twitter @BrettLyons670.