Raceworks Announces Driver Lineup for GRAND-AM 200 at Daytona
January 23, 2012

HUNTERSVILLE, N.C. (January 23, 2012) – Raceworks is set to compete in the GRAND-AM 200 at Daytona International Speedway for the Continental Tire Sports Car Challenge Series.  Drivers Brad Wood and Alex Kirby will pilot the No. 29 Honda Civic Si in the 2012 season opener.
Wood, the 2010 South East division champion and 12-time race winner in the NASA Honda Challenge Series, will be making his first career start in the Continental Tire Series. Wood said, "I am very excited about my first race in the GRAND-AM Continental Tire Series. The field is full of world-class drivers and the competition is sure to be strong. The Daytona road course is fast, challenging, and sure to provide intense on-track excitement."
Kirby, a veteran of the GRAND-AM Sports Car Series, will be making his first start with Team Raceworks this weekend at Daytona. He said, "Being able to get behind the wheel for a first-class organization like Raceworks is a dream come true.  The team has put together a fast car, and when you can go into a race knowing you have solid equipment, it gives you the confidence you need to run that much better."
This will be the team's first start at the "World Center of Racing".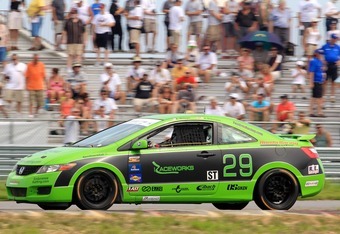 The Continental Tire Sports Car Challenge Series GRAND-AM 200 can be seen on Saturday, February 4 at NOON EST on SPEED.
About Team Raceworks
Team Raceworks is a professional GRAND-AM Continental Tire Sports Car Challenge team, which is owned and operated by Matt and Mary Beth Chambers. Matt functions as the Team Manager and has over 18 years of experience working in the racing industry. He has served as a crew chief in all three of NASCAR's top-tier series – Sprint Cup, Nationwide and Camping World Truck Series. At age 25, he held the record for the youngest NASCAR crew chief with a win to his name. Currently, he is a Test Team Manager for a Sprint Cup team. From his tenure in NASCAR he has learned how to develop a competitive car and effectively manage race team operations.
Raceworks President, Mary Beth Chambers is a 15-year veteran of sports marketing and promotion. She has worked as the Marketing Director for an LPGA golf tournament, sold and implemented sponsorships for the Detroit Pistons and Palace Sports & Entertainment, has served as the Director of Sponsorship Sales and later VP of Ticket Sales & Marketing for the Charlotte Checkers hockey team. Most recently, she worked as the Marketing Director for the United States Olympic Canoe/Kayak team. She understands the importance of business relationships and the importance of measuring the value of corporate partnerships.
For updates and details about Team Raceworks, please visit www.Facebook.com/teamraceworksnc, or @TeamRaceWorks on Twitter.