Kyle Williams: 49ers Scapegoat Shouldn't Receive Death Threats
January 23, 2012

Ezra Shaw/Getty Images
San Francisco 49ers young returner Kyle Williams is the obvious scapegoat following the NFC Championship 2012 loss to the New York Giants, but by no means does he deserve the hate he's been receiving.
Fans should be disgusted with themselves for the hate he's already received, but even more for the inhumane death threats that have been reported thus far by MercuryNews.com's Jon Becker. 
Devastated fan Cole Matthew Mitguard posted this on Facebook early Sunday morning:
"Kyle Williams... you need to leave San Francisco forever, you should never be allowed to play in the NFL ever again... Your play and ypur post game comments should be enough to earn yourself a spot in 49ers history's... As the biggest POS to ever wear the red and gold. Lots of hope for next year, let's just hope that KW gets hit by a bus, eaten by a lion, or dies in some other terrible way so he can't ruin the 49ers season again... What a terrible piece of garbage you are KW, you ruined the game I have been waiting for over 10 years... (sic)"
C'mon, man.
This is a young player thrust into an underrated and important role. He's only out there because regular returner Ted Ginn Jr. couldn't man up. Williams is trying to make a play, he's trying to win the game for 49ers fans and his teammates. 
Let's be real, folks, he was the victim of a perfect strip by Giants' Jacquian Williams. 
"I caught the ball, tried to head up field, tried to make a play and it ended up for the worse," said [Kyle] Williams, according to MercuryNews.com's Cam Inman. 
"The guy [Jacquian Williams] made the play," Kyle Williams said, according to CBS' Gregg Doyel. "He caught me slipping, and got the ball out."
"You hate to be the last guy that had the ball, to give it up that way in that fashion and to lose a game of this magnitude," Williams said of his overtime fumble, which set up the Giants' winning score, according to MercuryNews.com's Tim Kawakami. 
"Everyone in here told me to keep my head up and it's not on me," he said. "You hate to be the last guy that had the ball, to give it up that way in that fashion and to lose a game of this magnitude ... but I couldn't be happier with my teammates," Williams said per Doyel's article.
It's not like Williams didn't have room to work with, was he supposed to immediately drop to his knees after fielding a clean punt? 
The fact of the matter is that the costly bounce that led to his first turnover was not the reason the 49ers lost the game. The 49ers' offense, aside from two plays to Vernon Davis, was rather pathetic the entire night. This loss is as much on Alex Smith and the offense's inability to convert on third downs the entire game as it is on Williams' turnovers. 
As it turns out, Williams may have been playing injured and was trying to gut out a performance for his team.
According to ESPN's Doug Padilla,
"San Francisco 49ers punt returner Kyle Williams was playing with an injured left shoulder Sunday when his fumble in overtime set up the New York Giants for a game-winning field goal in the NFC Championship Game, according to Williams' father.

Chicago White Sox general manager Kenny Williams said that his son was undergoing treatment Monday with the 49ers training staff for an unspecified shoulder injury.

'He thinks he may have separated his shoulder in the third quarter, so he is in the training room,'Kenny Williams said by phone from San Francisco. 'That information he has not said anything about publicly and will not because he felt strongly that he could get the job done. There are no excuses; we don't do that. I don't want that misconstrued.'

...Asked if the shoulder injury played a role in either of his son's miscues, Kenny Williams was blunt.

'He felt he could get the job done. He didn't. End of story,' Kenny Williams said."
If captain Patrick Willis is supporting Williams, fans should too. Willis knows this was a team loss, which is why he tweeted these words to Williams after the game.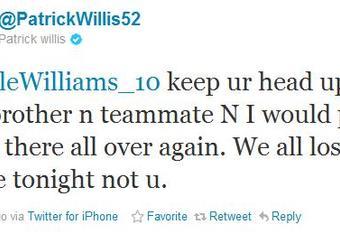 Willis isn't the only teammate coming to Williams' aid, clearly because they know the truth in this matter. Said Donte Whitner via Kawakami's story:
"Hopefully, he doesn't beat himself up too hard. Hopefully, the media's not on him too tough. Because he's still a young player, and he still has a bright future in the National Football League.

"There's just certain things that you can't do in certain situations. We have to protect the ball at all times. I think he learns that now, and he'll be better," said Whitner according to Kawakami."
Williams was appreciative of his teammates, according to Kawakami, stating:
"Everybody in here has covered my back and kind of patted me on the back and said, 'It's not all on your shoulders.'

"Couldn't be happier than to be with the teammates I have here."
Even head coach Jim Harbaugh, who is known to hold no punches back wasn't placing all of the blame on his returner.
"Keep your chin up, we all have things that we wish could've been different and that we could've done better," Harbaugh said later, according to Kawakami.
Simply put, 49ers fans, Williams was trying to make a play he knew his offense couldn't make with the game on the line. Blame the offense along with Williams, but be reasonable and don't dare send the second-year man unwarranted death threats. 
49ers beat writer Matt Maiocco of CSNBayArea.com answers a question from Jason Mitchell on the chances Williams could be released, stating, 
"Williams broke camp as the 49ers' No. 5 wide receiver. He was behind Michael Crabtree, Joshua Morgan, Braylon Edwards and Ted Ginn when the season began.

Without question, the 49ers need to do something to address the wideout position. Williams' spot certainly is not guaranteed for next season, so he'd have to earn his way on the team. But it would be surprising if they completely gave up on him before the start of camp.

The 49ers believe Williams can be an effective slot receiver. But Williams looked way too shaky in the return game in the limited time he was back there. His confidence took a huge hit, obviously. How he bounces back from this, from a mental standpoint, will determine his future with the club."
By no means should Harbaugh and the front office release Williams after this mishap. I don't care if he comes in to camp as the No. 5 WR again. If the 49ers cut him this offseason, it would send a horrific message to the rest of the team and the San Francisco fan base. If Harbaugh and the 49ers could stick by Alex Smith after everything that happened with him over the years, they can certainly help rebuild Williams' confidence and let him redeem his turnovers. 
Williams is devastated over his costly turnovers, according to his stepmother Jessica per TMZ's Staff. 
"Jessica, tells TMZ no one feels worse about the game than the family ... saying they are 'devastated.' 

...Jessica also referenced the wave of angry tweets aimed at her son, saying ... 'We also know there are some people who have singled Kyle out, but there are many, many more that support him. We will rally around Kyle and keep him strong!'

Jessica added, 'Kyle is a great athlete and we're looking forward to an outstanding season next year!'"
This is a learning experience for Williams and the entire 49ers team. They shocked the world by coming out of nowhere to be the No. 2 seed in the NFC this season. Harbaugh, Willis, Vernon Davis, Alex Smith and the entire team did a great job all season, but they were not without their flaws. They lost a heart-breaker together, not because Williams was stripped in overtime.
Scapegoat or not, keep your death threats to yourself.