Toronto Blue Jays: 10 Important Home Games to Mark on Your Calendar
January 23, 2012

Abelimages/Getty Images
Let's take a look at the Toronto Blue Jays' regular season schedule and mark down some important dates in our calendar.
This should be an excellent season for the Jays, which will make most games exciting and fun to watch. But as is the case every year, there are many games that are a must-see.
If you are anything like me, your summer schedule is already filling up fast so you need to put these games in your calendar now. No, I'm kidding. I am open all summer to watch Canada's team!
Thursday, April 5, 2012: Season Opener vs. the Tribe
The season begins in Cleveland where Romero will likely face off against Ubaldo Jimenez. Oddly enough, Romero didn't face the Tribe once in 2011, but the Jays should have an advantage in this game. Although this isn't a home game, every Jays fan will be stoked to watch the first game of the season.
Monday, April 9, 2012: Opening Day vs. the Red Sox
Just like every season, Opening Day should bring a boatload of excitement for the Jays. Especially against the hated Sox, April 9 should be a fun-filled and exciting game.
Since this will be the fourth game of the season after a three-game stint against the Tribe, the starting pitcher is very much up in the air.
We could see Brett Cecil, Henderson Alvarez, Kyle Drabek or Dustin McGowan. For that matter, we could even see a young wild card or Aaron Laffey. Regardless, it should be an exciting game.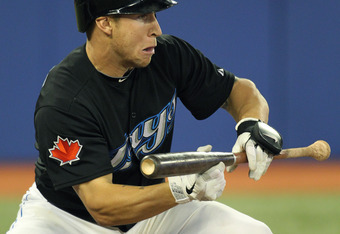 Claus Andersen/Getty Images
In April, the Blue Jays have 10 games on the road and 13 games at home. A decent split, yet these home games include opponents like the BoSox, Rays and Rangers.
April 30-May 2, 2012: Hopeful Yu Viewing  
Try and get your tickets as soon as the Rangers' probable pitchers have been released and we know exactly which day Yu Darvish will be pitching against the Blue Jays (if he does at all in the short three-game series).
Hopefully we get to see Yu in Toronto during one of these three games.
May 16-17: Yankees in Town; Possible Pineda Sighting No. 1

The Jays host the hated Yanks for a short two-game series on a Wednesday and Thursday. Everyone will be excited to see Pineda in action for the Yanks (well, we won't be excited to see him cripple the Jays offense, but you get the point).
However, the possibility of him pitching in one of these two games is quite low. We will probably have to wait until August when the Jays next host the Bombers.
June 11-June 17, 2012: A Great Week of Baseball in Toronto
There are two excellent back-to-back home series during this week. Both are three-game series and will showcase some of the best pitchers in baseball.
June 11-June 13, 2012: The Young Nats Visit Rogers Center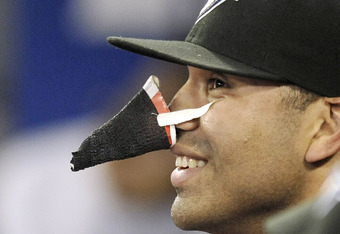 Brad White/Getty Images
During this series, Jays fans will hopefully get to see phenom Stephen Strasburg in Toronto. Best part is, if we somehow miss one of his starts then we have an excellent consolation prize in Gio Gonzalez or even Jordan Zimmerman.
This will be a fun series watching two young and upcoming teams battle in the early summer. Did I also mention Bryce Harper?
June 15-17, 2012: Halladay in Toronto?
Hopefully we will get to see the Doc pitch at the Rogers Center once again. This weekend set with the Phils will sell out quickly, so make sure to get your tickets soon! I don't think I need to say anymore.
June 28-July 1, 2012: Prince Albert in Toronto
The Jays host Prince Albert and the new-look Angels in a four-game stretch. Not the biggest draw of the season, but it will be interesting to see one of the teams that the Blue Jays will be battling for a wild-card spot.
August 10-19, 2012: Great 10-Day Homestand
The Jays host the Yanks, White Sox and Rangers during this period. Should be a great time to see some fantastic baseball and watch Nestor Molina pitch a shutout against the Jays.
August 10-12, 2012: Yankees in Town; Possible Pineda Sighting No. 2
There is a higher probability that we will see Pineda during this weekend series with the Yanks. This will be an excellent way to spend an afternoon in the blistering sun.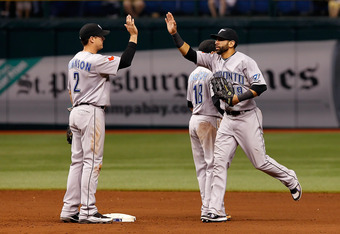 J. Meric/Getty Images
August 17-19, 2012: Hopeful Yu Viewing No. 2

Pretty self-explanatory.
September 27-30: Playoff Implications vs. Yankees
The second-to-last series of the season sees the Jays host the Yankees in a crucial four-game series that could greatly shape the 2012 playoff picture. We will probably see one of the first showings of some of the Yankees young pitching prospects (Banuelos etc).
Blue Jays fans would love to see their team play spoiler and destroy the Yanks chances, or if luck would have it, see the Jays gain position in the wild-card race. Either way, this late September series should be an exciting way to end the season.
So, there you have it. Ten fun series to watch at the Skydo... I mean, Rogers Center. Should be an excellent season!
Get at me on Twitter: @the__ste (Double Underscore)