Super Bowl 2012: Tom Brady, New England Patriots Look for Revenge
January 23, 2012

Jim Rogash/Getty Images
So it's all settled, and the Super Bowl matchup is set with a rematch of the 2008 Super Bowl when the New York Giants defeated the previously undefeated New England Patriots in one of the biggest upsets in Super Bowl history.
That seems like a strange statement: An upset in the Super Bowl? 
Normally, Super Bowl teams are evenly matched and 2008 was no exception. However, going into the game no one outside of New York expected it to be so.
New England skated through the regular season and even the playoffs with ease while the Giants barely scraped their way into the playoffs. 
Everyone expected the game to be another easy win for the Patriots. But the Giants would have something to say about that.
Though it took some fairly miraculous plays, the Giants went on to win the game and ruin what could have been the first undefeated season in the 16-game era of the NFL.
So here we are again: The Giants and the Patriots are back in the big game and this time they seem more evenly matched.
If anything, the Giants may actually have the advantage in this matchup.
The Patriots, led by Tom Brady, have arguably the best offense in the NFL with two tight ends that are virtually impossible to stop.
The Giants offense is not too shabby either, with a ton of talent at the wide receiver position and a guy by the name of Manning under center. But it's the New York defense that may be the factor that tilts this matchup in favor of the Giants.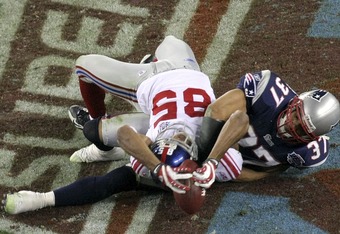 Doug Pensinger/Getty Images
The Giants have arguably the best pass rush in the NFL and we all know that Brady is not the same quarterback when he is under constant duress.
Both teams are in a sense lucky to be in the Super Bowl after barely winning their conference championship games thanks in large part to failures of their opponents' special teams.
New England was fortunate enough to be on the good side of a missed 32-yard field goal by Billy Cundiff that avoided overtime.
New York was the recipient of a fumbled punt within field goal range in overtime that gave them an easy chip shot to beat the 49ers.
None of that matters now. Both teams are in and it doesn't matter how they got there. It's a fresh, new, one-game season that starts and ends on Sunday, February 5.
The Patriots, and more importantly Brady, will be looking to avenge the lone 2008 defeat they received at the hands of Manning and the Giants. 
No one ever wants to play against Brady, especially a Brady that is seeking revenge. 
It will be interesting to see if the Giants' defense can step up and stop Brady.  If not, don't expect the Patriots to ever take their foot off of the gas.