Novak Djokovic: World No. 1 Won't Break a Sweat Against Lleyton Hewitt
January 22, 2012

Scott Barbour/Getty Images
Novak Djokovic will be playing against Lleyton Hewitt in the fourth round of the Australian Open, which will pit the current top seed and a former world No. 1 against each other. Hewitt remains to be the only hope for the Aussies after countryman Bernard Tomic lost to Roger Federer last night. After tonight, the country's hopes will fall short yet again.
Djokovic has been one of the most dominating players in the game since winning this tournament last season, while Hewitt has been looking to make one last push to claim his first title in front of his fellow mates.
The play of Djokovic has just been too strong, and there is no way that the Australian will be able to even come close to taking down the world No. 1.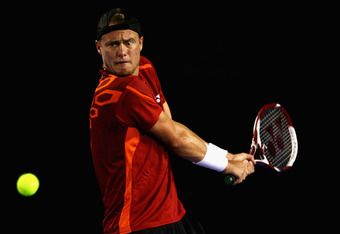 Robert Prezioso/Getty Images
The success that Hewitt has had is remarkable, but it can only continue for so much longer. After defeating Cedrik-Marcel Stebe in the first round, Hewitt advanced past the second round when his opponent, American Andy Roddick, was forced to call it quits after three sets due to injury.
Who knows if Hewitt would even be here right now if Roddick hadn't gotten injured, but he is, and he has continued to stick around.
In the third round, Hewitt went up against Milos Raonic from Canada.
The young Canadian has been regarded as top-tier talent, but he once again looked raw in Grand Slam play.
Hewitt defeated him in four sets in front of the Rod Laver Arena crowd, putting in an especially strong display in the fourth set.
This is Djokovic though—he's the best player in the world right now, the winner of three slams last season and one of a few men remaining that have yet to drop a set this tournament.
The Serbian has just been ridiculous as of late. In his last two matches, he has won 81 and 84 percent of his first serves, respectively. He broke his opponents 24 times through the first three rounds, and one shouldn't be shocked if he can break Hewitt early.
If you are unsure how dominating that stat is, Hewitt has only managed to break his opponents 12 times. If we want to take it step further, Rafael Nadal only managed to break his opponents serve 18 times through his first three matches, and he still stands behind Djokovic with just 23 after defeating Feliciano Lopez last night.
Both men are excellent serve returners, but Djokovic has the upper hand in his mobility and ability to make big shots at will.
Through three rounds, he already has racked up 80 winners this tournament. Considering he has only played 64 games thus far, that stat is ridiculous.
No one should expect him to drop off at all in this match.
The crowd will be fired up, but it will be hard for them to help carry their country's last hope once again.
There is just no way Hewitt can get away with what he has been able to do thus far anymore. It was a phenomenal, fairy tale run, but all stories have to come to an end.
This one ends now.
Jeff Chase is a featured columnist for the Chicago Cubs and Arizona State football.