Magic's 92-80 Victory over Lakers Solidifies D12 as Best Center in the NBA
January 21, 2012

Ronald Martinez/Getty Images
Andrew Bynum has had a fantastic start to the season. Not only is the Lakers center averaging career-highs across the stat board, but he finally looks like he is a fully healthy and ready to tap in to his unlimited potential.
Bynum's play has inspired many to wonder if he, not Dwight Howard, is the most dominant center in the NBA?
Players, fans and coaches have pondered the aforementioned question, but nobody has voiced their opinion louder than new TNT analyst Shaquille O'Neal. The five-time NBA champion bestowed the distinction to Bynum, saying he is "the best big man in the game."
Nobody knows Shaq's true intentions on handing this impressive accolade to the 24-year-old Bynum, but Dwight Howard believes he has a clue.
"He's mad about 'Superman,'" Howard said, according to the Orlando Sentinel. "I didn't know he made it up. I didn't know Superman came from Shaquille O'Neal. I would suggest he'd just sit down and get on with his life. He don't play no more, so what's the point of talking trash? It's not like we're wrestlers and we get to battle it out. Who cares?"
Coming into Friday night's game against the Lakers, everybody knew Howard would come in with a chip on his shoulder to solidify his spot as the NBA's best center, but nobody knew how much he would dominate the breakout Bynum.
Howard led the Magic to a huge early lead, and Orlando didn't look back. In the first half, O-Town traveled to the rim with ease, while knocking down key three-pointers and playing shut-down defense. 
However, the second half was a different story. The Lakers were making huge strides to get back to being competitive in the game, but their attempts fell short.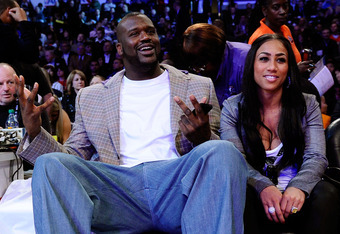 Kevork Djansezian/Getty Images
Orlando went on to win the exhibition match 92-80.
Despite not finding his offensive groove until halftime, "Superman" put on an absolute clinic on how to be an absolute behemoth under the basket.
Howard finished the game with his fifth 20-20 of the season, as he tallied 21 points, 23 boards and one blocked shot. 
Bynum, on the other hand, was held in check by the reigning three-time NBA Defensive Player of the Year. The Lakers' center only recorded 10 points and 12 rebounds.
Howard's performance puts O'Neal's ridiculous comments to shame. However, Howard said he came into the game not wanting to prove the elder "Superman" wrong.
"It wasn't about Dwight Howard night, it wasn't about Andrew Bynum night, it was about the Magic and the Lakers," Howard said after the game. "And that was the only thing that was on my mind was getting a win. There's no need to go back and forth about me and him. We play the game different ways, we both have an objective, and that's to win. He's won two rings, and I'm trying to get mine. I try to lead by example by going out every night and giving 100 percent."
Whether this statement was accurate or not doesn't matter, as Howard has officially solidified himself as the best center in the NBA.
Sure, Bynum is a fantastic center, as he is averaging a respectable 16.3 points and 13.8 rebounds per game, but he is no Howard. D12 is averaging a fantastic 20.1 points, 15.6 rebounds and 2.4 blocks per night.
In the end, Howard is leaps and bounds better than the young Bynum. After all, Howard has been nominated to five NBA All-Star teams and four First All-NBA teams, while earning three consecutive NBA Defensive Player of the Year Awards. Bynum's career accolades don't even come close, as he has yet to even make an All-Star team.
Maybe Shaq should lose his nickname "The Big Aristotle" along with "Superman," as his philosophy on the NBA's best center is completely ridiculous.