NBA Rumors: Eric Gordon Open to a Future with New Orleans Hornets
January 21, 2012

Christian Petersen/Getty Images
With the January 25th deadline to renegotiate a contract approaching, Eric Gordon is said to be seriously interested in signing a long-term extension with the New Orleans Hornets.
Jimmy Smith of the Times-Picayune recently reported that general manager Dell Demps and his front-office have begun talks with Gordon's agent Rob Pelinka on a possible deal that would make the Indiana shooting guard a Hornet for many years to come.
However, many are speculating that Eric Gordon has not shown enough in his two-game stint to be worth a max contract—like the five-year, $80 million deal that Russell Westbrook and the Thunder reached last week.
As the Hornets continue to wait for commissioner David Stern to relinquish his powers as the de facto owner of the team, they can't afford to risk losing their new franchise centerpiece, who becomes a restricted free agent at the end of this season. 
But, with a knee injury currently keeping Eric Gordon on the sideline, he's missed time three years in a row now, and injury proneness certainly doesn't help when discussing a long-term deal.
The worst thing that could happen to the Hornets is to spend all their owner-free money on a player that frequently gets hurt.
In all fairness to Gordon though, he's never missed more than 26 games in a single season. Plus, the injuries he sustained never permanently affected his ability to play aggressively. 
Eric Gordon would definitely bring stability to the ball club—if he stayed healthy—and would help the franchise rebuild.
When asked about the current situation, Dell Demps refused to comment.
"It's not something I want to talk about," Demps said. "I'm not going to talk about the extension at all."
However, after the Chris Paul trade took place, David Stern had this to say when discussing whether or not he would allow the Hornets to renegotiate a contract:
"The team is authorized to have any discussion that any other team can have," Stern said. "And so the answer to your questions is it can happen with current ownership or it can wait. It depends upon the player's choice...I have to sign off on all major transactions."
Following his previous acts of dominion over managerial decisions, this was certainly a positive statement—and a relief for those who might have questioned if the organization previously had any power over the roster.
"You know they've told me they want me here, they want an extension," Gordon said. "But it's all about what they think is the worth in me. They see that I'm capable of helping this team win, capable of playing hard every night offensively and defensively. Now it's all about dealing with what I'm worth."
So the question remains: Is he really worth the money?
Well, its certainly debatable. And unfortunately, time is not on the Hornets' side as they only have five days to make up their minds.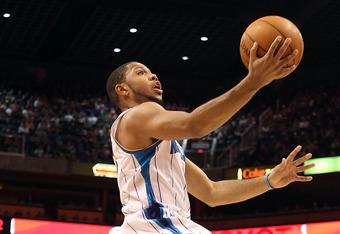 Christian Petersen/Getty Images
But with every waning moment, Hornets fans can at least be happy that their best player is willing to stay with the team. 
"I'm very open to a long-term extension," said Gordon. "It's all about having enough security to where I'm able to be here."
Gordon was previously thought to be unhappy when he was first traded from the Clippers. But it now seems that this resentment was only being channeled towards Los Angeles as they failed to communicate their willingness to trade him. 
"They literally told me as an organization that they wanted to keep me, and [the trade to New Orleans still] went down?"
According to an article written by Eric Browning, this was certainly not the first time Gordon dealt with loyalty issues. The situation happened to be reversed during his college days, when he orally committed to playing for Illinois and then quickly flopped on his decision by choosing Indiana instead.
There have also been rumors that the Indiana Pacers have shown interest in bringing Gordon back, since he was drafted seventh overall in the 2008 NBA draft. 
The Indiana native would certainly be embraced by their fans, but the Pacers would have to at least give up Danny Granger to make the deal happen. 
Perhaps, the funniest part of this deal—if it did go down—is the fact that Granger happens to be a New Orleans native, growing up in Metaire, a suburb ten minutes away.
I would not recommend such a trade as opposed to re-signing Gordon; Granger has had his fair share of injury problems, too. But it would definitely make for a nice story.
Any way you put it, the Hornets need to do everything within their power to keep Gordon on the team. They could negotiate a long-term deal before January 25th, or match multiple offers during the free agency period, which could prove to be fatal if they lose him and get nothing in return.
Its going to be an interesting week, but we can only hope that the Hornets make the best decision as they continue building the pieces of their new look squad.