Why the Kansas City Chiefs Should and Will Stick with Matt Cassel in 2012!
January 20, 2012

Jamie Squire/Getty Images
In sports, and well, in life, when you are winning everyone is a hero. When you are losing everyone is a bum. That is especially true in the NFL. The fans and the media only see wins and losses and championships or the lack thereof.
The thought process is understandable. It is hard to lose and be rational. It is also difficult to win and be rational, but that is another story. It is easy to over react and start screaming for change. But, you have to be careful not to throw out the baby with the bathwater!
The Chiefs took a giant step forward in 2010 and then tripped in 2011. If you look at the history of worst to first in the NFL, that was no surprise. I wrote an article in September of last year entitled "Worst to first in the NFL: Sudden improvement or sudden luck?" Here is a quote from that article,
Since 1970, teams have improved from last place to first place the following year 28 times, including the Chiefs team of 2010. Within those 28 worst to first team improvements, how many were able to maintain their first place finish the next year? Two! The Baltimore Colts in 1976 and the Chicago Bears in 2006.
Will the Chiefs be the third team to accomplish that feat?
History says no way.
Throw in injuries and a pre-season lockout and it is no wonder the Chiefs struggled this year.  But, this article is not about that.
I intend to make a case for Matt Cassel to continue to be the starting QB in 2012. Part of the screaming this post-season is that Cassel is a sub-par quarterback who is inconsistent and that a change has to be made if the Chiefs have any plans to be a playoff caliber team.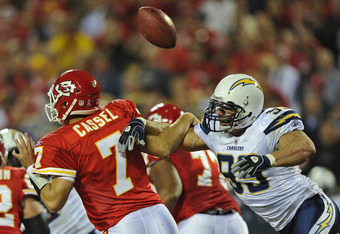 Peter Aiken/Getty Images
Matt Cassel is inconsistent and I have stated that before, but to be fair, he is playing on an inconsistent team with an inconsistent, if not unstable, coaching staff. In three years he has played under three different offensive coordinators and game planning that spins like a roulette wheel.
I don't know if I am the only person around who actually looks at history and stats, but in looking at Matt Cassel from that point of view, several things stand out.
Number One on the List: Sacks kill the quarterback. And, by extension, kill the offense. Looking at Cassel's career, he is actually a very consistent QB except in one area. When he is continually flushed from the pocket and sacked regularly, he throws interceptions.
Now, some are going to point their fingers and say, "Yeah, that is exactly the problem!" But the problem is, that is always the problem for any quarterback! There have been a few exceptions to that rule, people like John Elway who was able to overcome running for his life, but that is rare. When the quarterback is on the run their teams usually lose.
In the case of Matt Cassel, the three seasons to date with the Chiefs are an outstanding example of who he is when is gets some protection. His yards passing per game have been consistent all three years and his completion percentage has been consistent.
The difference is the interception to touchdown ratio when the sack ratio is high. In 2009 he was sacked 42 times in 15 games. That year he threw 16 interceptions and 16 TD's. In 2010, with only 26 sacks in 15 games, the INT/TD numbers improved drastically. Only seven interceptions while throwing 27 TD's. Then 2011 comes along and he is sacked 22 times in nine games, equal to 37 sacks in a 15 game season. The interception to touchdown ratio is back to nearly even, 9 interceptions to 10 TD's.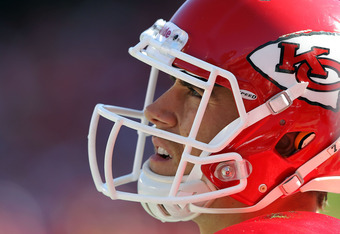 Jamie Squire/Getty Images
Of course the wins and losses in those years match the scenario painted above. The Chiefs were 4-12 in 2009, 10-6 in 2010, and 4-6 at the point he was injured in week 10 this season.
The people who do not like Matt Cassel will continue to see it their way. I don't expect to change minds, but I do intend to make the point that Cassel is a competent, if not good quarterback when given the opportunity to do the job of quarterback rather than trying to escape the clutches of the opposing defense.
Rather than spending a few billion dollars on someone like Peyton Manning, or pretending Kyle Orton is the answer, the Chiefs should go out in the draft and do the job of giving Matt Cassel a good offensive line that will allow him to do the job he was hired to do.
I wonder what would happen if Cassel was sacked, say, 10-15 times in the 2012 season, instead of 35-45 times. The stats say that he would throw something like 35 touchdowns and maybe five or six interceptions.
After that season, he would be considered for most valuable player honors and the same people who are now calling for his head would be clamoring for an autograph!
It is a fickle world that we live in.