New York Islanders: John Tavares Has Become a Legitimate NHL Superstar
January 20, 2012

Paul Bereswill/Getty Images
It's official: New York Islanders center and alternate captain John Tavares has fully arrived on the NHL stage. No longer should his name be mentioned only in discussions about the best players on the Isles; Tavares has clearly established himself as an elite player league-wide.
Considering the fact that when he was drafted by the Islanders he was heralded as the savior of a franchise that hasn't won a playoff series since 1993, it's not exactly breaking news that Tavares is a skilled hockey player.
Isles fans have seen Tavares display the flashes of brilliance over the past two-plus seasons that made him the team's top prospect and future cornerstone around which they hoped to build a championship-caliber team.
Now it's time the rest of the NHL took notice: John Tavares has grown into a legitimate superstar.
Since being chosen No. 1 overall in 2009, Tavares has been the most productive member of his draft class with regards to scoring. His 167 career points put him 21 points ahead of Colorado Avalanche center Matt Duchene for most points among 2009 NHL draftees.
For as much publicity as Duchene has gotten since his NHL career began, Tavares has toiled away on Long Island in relative obscurity.
Lately, the quality of Tavares's play is making it difficult for anyone who follows the NHL to ignore him any longer. Tavares is currently riding an 11-game point-scoring streak, during which he's tallied five goals and 14 assists.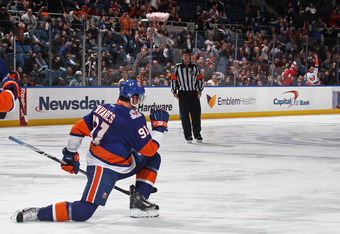 Bruce Bennett/Getty Images
His streak calls to mind that of another great Islanders player: Bryan Trottier. Trottier posted a 25-game point-scoring streak in the 1981-82 season, during the dyanstic years of the franchise.
Tavares's streak ties Boston Bruins center David Krejci's league-high scoring streak of 11 games with at least one point recorded. More importantly, Tavares's recent stretch of stellar play has guided the Isles to a 7-4 record over the past 11 games.
It's no longer a secret that Tavares is the hottest player in the league and that he's not showing any signs of slowing down.
Tavares has gone from being described as the lone bright spot on a floundering team to being called the best player on the ice any given night, and rightfully so.
The fact that he's outplayed the likes of Thomas Vanek, Alex Ovechkin and Claude Giroux in recent games is a credit to his maturation as an NHL player; his being named to the 2012 NHL Eastern Conference All-Star team is further proof that he's one of the league's best.
Perhaps coincidentally, Tavares's elevated level of play of late has triggered a similar spike in Kyle Okposo's performance. Since being paired alongside Tavares on the top line for the Islanders—joining fellow winger Matt Moulson—Okposo has regained the confidence he routinely displayed for the team last season.
As is often said, a common trait of a true leader on any team is his ability to raise the level of play of his teammates; Tavares fully embodies that characteristic, as evidenced by Okposo's resurgence.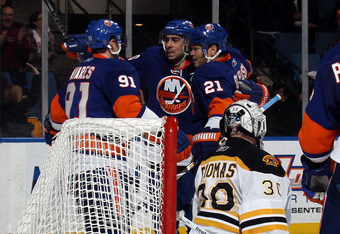 Bruce Bennett/Getty Images
Also, the chemistry between Tavares and Moulson gives the Isles a formidable front line, one that's on par with any other top line in the NHL. With Tavares centering the first line for the Isles, the future looks promising for this team.
Not to be forgotten among Tavares's stickhandling, goal scoring and crisp passing is his overall toughness. In a recent game against the Detroit Red Wings, Tavares took an errant puck to the face, received stitches in the dressing room and returned to the game minutes later.
Not only did he make a quick return to the ice, but he notched a goal and an assist not long thereafter, both in a little over four minutes of game time.
Tavares's stats when compared to the rest of the NHL might not carry much weight with hockey sabremetricians—if those types of people exist—but the numbers speak for themselves when you consider that the Islanders are not a great team (yet), and are certainly lacking in terms of overall offense.
Tavares is tied for 13th in the league in points (44), 27th in goals (17) and 19th in assists (27). Compared to some of the league leaders on more offensive-minded teams, Tavares's personal stats this season are admirable.
And to think that he's only scratching the surface of his hockey potential.
The Islanders may be starting to turn the corner—and in the process, transitioning from rebuilding the team into maintaining success on the ice.
With Tavares having emerged as a team leader and a star in the NHL, the Isles have a franchise player to serve as the cornerstone for what the fans hope is another dynasty on the island.