NBA Trade Rumors: Why a Blockbuster Dwight Howard-Blake Griffin Deal Makes Sense
January 19, 2012

Kevin C. Cox/Getty Images
First, it was the LeBron-a-thon.
Then, it was Melo-palooza.
Admittedly, the CP3-For-All was short lived.
And although we are yet to come up with a witty catchphrase to describe Dwight Howard's ongoing defection dilemma involving the Orlando Magic, there has been no shortage of twists and turns. 
In case you've been under a rock, let me get you up to speed.
Dwight holds the same exact option that Carmelo had last year. Although his current contract with the Orlando Magic expires after next season (2012-2013), he holds an early termination option and can elect to become a free agent this summer.
Deja vu.
From day one, Dwight has claimed to "want" to remain in Orlando but to "want" to win. He has rightfully become frustrated with Magic general manager Otis Smith's apparent inability to surround him with enough talent to be a perennial contender.
2008, you see, was a long time ago.
Now, what we have is a Melo-esque standoff in which the franchise player and ownership try to coexist for the time being.
Dwight has let it be known that his preferred destinations are the New Jersey Nets, Dallas Mavericks and Los Angeles Lakers. Obviously, though, Otis Smith is in no rush to trade him.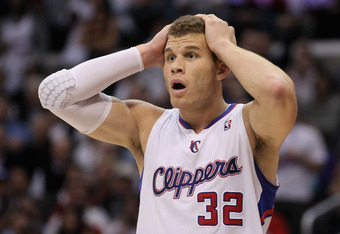 Jeff Gross/Getty Images
And on Monday evening, Chris Sheridan of SheridanHoops.com exclusively reported that Dwight Howard would be open to a move to Los Angeles Clippers.
That's right—the Lob City Clippers.
Immediately upon hearing the news, most people—including myself—dismissed the notion that the Clippers would be interested in trading Blake Griffin for Dwight. We all assumed that the only way he could end up playing for the Clips would be if they were willing to make such a deal.
Since then, Sheridan clarified his report and reiterated that, per his sources, Dwight's interest is in teaming up with Griffin and CP3 to form triumvirate.
Interestingly enough, I took to Twitter nation and began to ponder. And quickly, I made the decision. If I were Donald Sterling, there's no way I would trade Blake Griffin for Dwight Howard.
Instead, I'd trade a package built around Blake Griffin and DeAndre Jordan for Dwight Howard, Glen Davis, Hedo Turkoglu and J.J. Reddick.
Some additional pieces and (perhaps) a third team would have to be involved to make the deal work. But where there's a will, there's a way.
Call it crazy. And in some ways, it is. Under no circumstances do you trade a soon-to-be 23-year-old, second-year power forward who is averaging 22.4 PPG and 12.0 RPG. Right?
Wrong.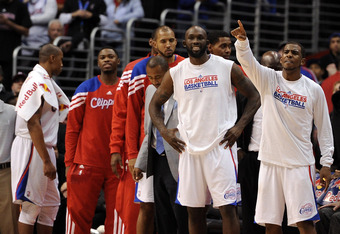 Harry How/Getty Images
Before we take this exercise in futility any further, let me point out one of the greatest statistics ever. Even today, it's one that is under-reported. 
Since 1980, there have been a grand total of four—yes, four—different NBA players who have won the Finals MVP Award with a team that DID NOT draft him. Ponder that for a moment.
Now, before I supply the names, ask yourself: What does that tell you?
To me, it tells you that the Basketball Gods—under most circumstances—will not bless you with the fortune necessary to hoist the beloved Larry O'Brien Trophy if you think that the man who will lead you there is someone you will get via free agency or trade.
You see, Dirk Nowitzki, Kobe Bryant, Paul Pierce, Tony Parker, Dwyane Wade, Tim Duncan and Michael Jordan all hoisted their Finals MVP(s) for the teams that either drafted them or acquired them on draft day. So did everyone else back to 1980, with the following exceptions:
Chauncey Billups (2004)
Shaquille O'Neal (2002-2000)
Kareem Abdul-Jabbar (1985)
Moses Malone (1981)
The point? It takes prudent drafting and good management to win.
The reason being if a guy is good enough to lead you to a ring, he won't become a free agent. At least, that's true in most circumstances. And I'm willing to bet that Dwight can one day join that list.
So, if you're going to tell me that the Clippers shouldn't trade Blake because they need to retain fortune with the Basketball Gods, I can live with that. But if your reasoning relies on anything remotely related to basketball reasons, I would like to challenge you to a boxing match.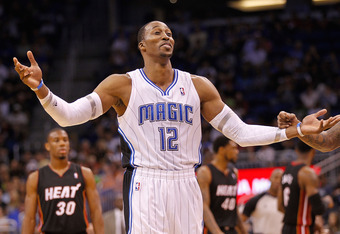 Mike Ehrmann/Getty Images
Follow me on Twitter and I'll DM you to set it up.
Let's pause to pay homage to the fact that of the four aforementioned MVPs, three of them were true centers. Two of them (Shaq, Kareem) were the most dominant centers of their respective generations.
So if you have the opportunity to get the most dominant center of this generation, don't you have to do it?
Dwight Howard is 26 (not 36) and he's won the NBA Defensive Player of the Year Award three consecutive years. He can't shoot free-throws, but his offensive game has improved substantially since he entered the league back in 2004.
He's carried a mediocre Orlando team to the playoffs and an NBA Finals. And now, you have the opportunity to match up him with the best playmaker in the NBA.
You really mean to tell me you don't jump on that?
Obviously, anyone would rather have Paul, Dwight and Blake, but if I had the opportunity to take any two of the three, I think the decision is easy.
Since Orlando is going to lose Howard in all likelihood, I think the Clippers—by throwing in Jordan—could get the depth and playoff experience necessary to actually win a championship. If the Magic are trading Dwight, they'll be in full rebuild-mode and would jump on the opportunity to shed some of their long-term contracts.
Big Baby has a ring, Turkoglu has played in the Finals and J.J. Reddick—well, at least he has good hair. But he can also stretch defenses, roll off of screens, and catch and shoot with the best of them.
With Paul, Reddick, Caron Butler, Glen Davis and Dwight Howard starting and Chauncey Billups, Randy Foye and Reggie Evans coming off their bench, wouldn't the Clippers be really good? They would literally be two pieces away from winning multiple titles.
Of course, that assumes (as we all do when we're doing this type of thing) that everyone stays relatively healthy. Which—by the way—allows me to introduce one of the single greatest attributes of Dwight.
He's indestructible.
He's missed seven games out of the 587 in which he was eligible. Or, in other words, he's played in 98.8 percent of his games. And of the games he has missed, a few were probably due to suspensions.
Quite simply, we overlook how much of an impact Dwight has on the opposition because of his shortcomings. But if he ever got on the floor with another All-Star, the league should and would shudder with fear. 
After seeing multiple point guard-power forward combos fail to win a championship (Stockton-Malone, Kemp-Payton, Nash-Stoudemire), I'm not totally buying the Clippers' ability to win it all just yet.
But if you put the two most important ingredients (point guard, center) on the same court at the same time, before the age of 30—I think I'd be more willing to roll with that.
Dwight would fortify the interior defense of the Clippers, and with Big Baby beside him and Caron Butler and Chris Paul patrolling the perimeter, their defense could be amazing.
Blake Griffin is awesome, but by trading him and DeAndre Jordan, the Clippers could turn one awesome and one very good piece into one awesome and three good pieces. Basketball is a team sport, and there is strength in numbers.  
Just consider it for a second.
Yes, trading Dwight for Blake straight up might upset the Basketball Gods, but if Shaq, Kareem and Moses were able to overcome their scorn, I'd like the odds of a CP3-Dwight duo doing the same.
Will it happen? Probably not.
But in my opinion, that's a crying shame.
Moke Hamilton is an NBA Writer and Capologist, writing for SheridanHoops.com and CHARGED.fm. He is a National NBA Contributor for Bleacher Report and appears regularly on SNY.tv. Follow him on Twitter for the latest in the world of the NBA.