Fernando Torres: Chelsea Star Might Be Worth £50 Million
January 19, 2012
Jamie McDonald/Getty Images
Fernando Torres might be worth his £50 million to Chelsea, as his Premier League and UEFA Champions League performance data shows.
Of course his statistics don't merit his price tag at the moment, but what they show is a man with potential to be truly prolific. 
For example, the Blues striker averages better than a goal or an assist in two of every three games he starts—five goals and seven assists in 17 starts in all competitions this season.
So if he started every match this season, he could end the season with 13 league goals and 12 assists or any direct contribution, which would lead to him being credited in the scoring of 25 goals.
That's the sort of potential he has based on his current situation, but aside from not starting as many games as he should, there are plenty of other factors in Torres' way.
The biggest one right now is the pressure he's under from the fans and media. And that's partly caused by one main issue—bad luck. 
Had it not been for the woodwork and uncharacteristic, world-class saves, the 27-year-old Spaniard would have at least six league goals to his name so far. 
And that would equate to six goals scored from just nine shots on target, which shows exactly how good Fernando Torres can be when striking the ball.
After all, that would be a better conversion rate from shots on target to goals scored in the league than Lionel Messi, Cristiano Ronaldo, Robin Van Persie, Mario Gomez, Zlatan Ibrahimovic or any other celebrated goal scorer right now.
Such pressure hasn't stopped him possibly being the sixth best player in the Champions League this season, having been only one of a very select few to end the group stages with 100 percent.
A 100-percent record meaning Torres has directly helped in the scoring that equates to at least one goal per game in the group stages, with two goals and three assists in five games.
Only Messi, Ronaldo, Ibrahimovic, Toni Kroos and Roberto Soldado have bettered that.
Another big problem limiting Torres is the competition he faces from Didier Drogba, of whom Paris Saint-Germain and ex-Chelsea boss Carlo Ancelotti said must be sold for Torres to thrive.
Didier is like Filippo Inzaghi, he tends to devour whoever is in his way. It is not malice, they are just made like that.

Take Torres and his [goal scoring] crisis. If you decide to invest so heavily in him, you have to sell Drogba.
Not only is Torres getting "devoured" by Drogba, he's also seemingly taking the flak for Chelsea's poor form up front, despite the Ivory Coast international making the same amount of goals and assists combined, but in more starts and many more minutes played.
Plus, it doesn't help the World Cup winner's case that he's effectively been bumped off by Andre Villas-Boas at times in favour of Daniel Sturridge and not given many chances to put right his few poor performances. That's because Sturridge has scored a lot more goals.
But since coming to Chelsea, Torres has become a lot better at creating chances for teammates and is actually one of the top-10 strikers in Europe in making assists this season.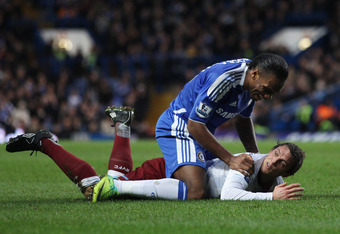 Ian Walton/Getty Images
And when the two aren't in the same lineup together, the Blues score more goals overall when Torres plays than when Sturridge does.
So it's clear to see that Fernando Torres is quite important to Chelsea and would have far more value to the team if there weren't so many variables in his way.
Rumour has it Drogba might be off to Shanghai Shenhua this month—the same team that signed Nicolas Anelka from the Stamford Bridge outfit.
If that materialises, Torres might get more playing time. And if he gets that, the statistics clearly show he's more likely to score.
And if he's more likely to score, he's less likely to be under pressure from fans and the media, in turn meaning he's likely to score even more goals.
So in essence, the man who Roman Abramovich spent a British transfer record to acquire from Liverpool could soon start to actually become worth his massive fee.