East-West Shrine Game 2012: Skill Position Stars Who Will Steal the Show
January 19, 2012

Stephen Dunn/Getty Images
The East-West Shrine Game is one of the final chances for NFL prospects to prove they are more than late-round fodder or undrafted signings. There is a ton of pressure on players to stand out from the crowd because if they don't, their draft stock will that a significant hit.
Here are three offensive skill position stars who will avoid getting lost in the crowd by leaving a lasting impact following their performances on Saturday.
RB Marc Tyler (USC)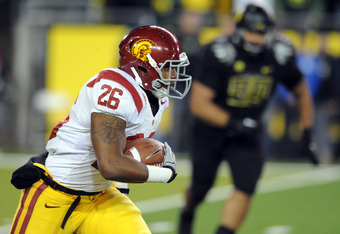 Steve Dykes/Getty Images
One of the downsides for playing at USC is the amount of talent on the roster. It's a lesson Tyler learned the hard way over the past couple seasons as he was never able to secure full-time duties in the backfield, which has caused his stock to dip.
When he did receive extended playing time, he looked like a running back who possesses a boatload of potential. He has already picked up on the finer points of the position, such as blocking, and should continue to develop in the passing game.
He's a punishing back, which tends to show up well in All-Star games like this, and he has done himself a lot of favors in practice so far this week.
RB Alfred Morris (Florida Atlantic)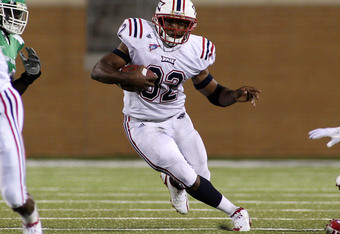 Morris is a virtual unknown among college football fans after spending the past four seasons with the Owls. He's built in a similar mold as Tyler, but he has three years of starting experience under his belt and the results have been rock solid.
It's always an uphill climb for small school backs to make it big, but it's not impossible. Games like this are the perfect opportunity for Morris to prove he can survive against high-level competition, and the feedback has been good to this point.
Look for him to take full advantage of his chance to shine on Saturday and at least force scouts to give him a second look before draft weekend.
WR Junior Hemingway (Michigan)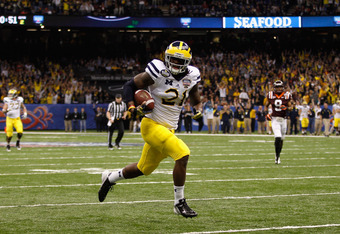 Chris Graythen/Getty Images
The main criticism against Hemingway is that he lacks breakaway speed. That's only one aspect of being a successful receiver in the NFL, though. He does so many other things well and truly deserves more respect than he's currently getting.
When you consider Denard Robinson's struggles in the passing game, it's not a surprise that Hemingway's stats don't jump off the page at you. He's going to catch on with a team and find a niche because he'll be willing to do the dirty work other wideouts shy away from.
The East-West Shrine Game will finally prove that he can excel, even though he won't win many foot races against the other receivers.