San Francisco 49ers: Fans and Super Bowl Hopefuls, Who Is This Bro?
January 19, 2012

Like many NFL fans placing heavy bets on the NFL Playoffs, I picked the New Orleans Saints to beat the San Francisco 49ers in last week's second-round matchup—and like many NFL fans, I was a loser.
It was a game where the final moments not only left most of the postseason-challenged NFL diehards scratching their heads and mumbling the old cliché: "Anything can happen in this league," but also legitimized Jim Harbaugh's status as one of the premiere head coaches currently in pro football. He pulled out offensive stops we haven't seen from the 49ers all season to beat an injured—but largely favored—New Orleans Saints team. 
But all credit-where-credit-is-due aside, there was one guy on the 49ers' side that day that stood out more than any other player, coach or staff member. 
There is one man that deserves more credit than a tearful Vernon Davis or the prodigal quarterback Alex Smith, who didn't just exceed fan expectations in his first ever playoff appearance and victory—but shattered them.
That Man Is This Bro
It's obvious from the pictures here that this guy is a total hero. It's obvious from the pictures here that this guy is an unsurpassed legend. But other than a few sporadic camera shots on Fox's national telecast of the game and the TV snapshots my fat, drunk friends were able to capture of him with their smart phones, the man remains somewhat mysterious.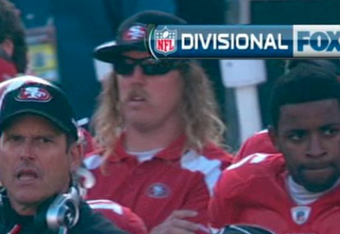 No one (at least no one in my circle of sports friends) can seem to figure out who he is, how he got there or what grooming products he must use to make his jaw-dropping hair and handlebar-teaser combo kick so much righteous ass that it delivered a San Francisco 49ers team from 2010 despondency to 2011 postseason-storybook heroism. 
So, I have no choice but to go public and appeal to the 49er Nation of fans for answers.
Who Is This Bro?
And don't think I haven't tried to find out already—for this editorial was by no means my first attempt to unearth the identity of this famed golden champion (with equally golden locks). 
For starters, I tried to carry out due diligence via Google search, but my endeavors came up fruitless. In no recent Google images featuring said hero were the keywords "49ers long hair, 49ers moustache, 49ers dude on sidelines during Saints game, or 49ers golden legend championship hero" used to tag any captured still frames of this fearless bro that revering fans may have posted online after the game in a drunken state of frat-boy glee. 
Furthermore, no mention of him exists, neither on the official 49ers Facebook page, nor any of it's photo galleries, nor any of the team-member profiles located on the official San Francisco 49ers website.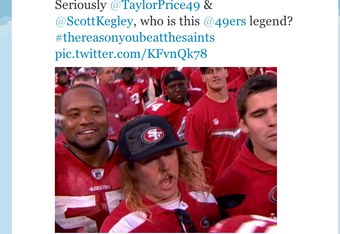 And don't think I just checked the roster. 
I checked the Injured Reserve list, the practice squad, the coaching profiles, the staff members—you name it.
The only guy I found that even looked remotely similar and had long hair was Brett Swain, but—it just doesn't appear to be Brett.
And don't think I stopped looking there. 
I took to Twitter to tweet cell phone-taken screenshots of this illustrious legend and tagged @49ers in all of my tweets—begging for answers to be unearthed from the inside the organization. 
I even went so far as to tag @TaylorPrice49 and @ScottKegley, the folks listed as personnel in charge of the official 49ers Facebook page, for answers.
But Answers?
Still there are none.
Is the San Francisco 49ers shying away from an official statement that would make public the identity of this loyal Duke of Hazard?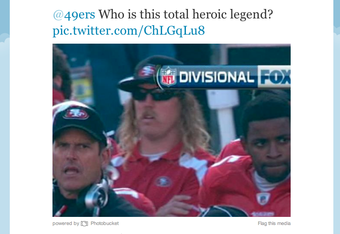 Maybe it's a silence similar to the way no self-respecting 49ers' staff member would ever publicly release information regarding an NFC Championship game secret weapon that Head Coach Jim Harbaugh might be reserving as a final trick up his sleeve before a triumphant San Francisco return to the Super Bowl.
No, perhaps the Fox cameras have already said too much.
This gridiron gargantuan, whose legendary heroism is only surpassed by his uncanny ability to accessorize his facial hair with an unbroken-in,wide-brimmed 49ers cap, is naturally going to be kept quiet—at least by any 49ers official who still has a job to lose.
So I Look to You, 49er Nation
I look to the fans for answers. I look to you for a name to be put to the face of this secret weapon Harbaugh somehow used to dismantle the Saints. The man that had at least a quarter of the viewership of the Saints vs. 49ers game nudging their nearby drinking buddies on the shoulders, beer in hand, saying things like:
"That guy. That guy's living the dream, and damn it, he's done some things right to get there."
So comment below, email me, or Tweet to the world and please—PLEASE—tell us.
Tell all of us who wish to God-damned hell we could somehow be that guy standing on our favorite teams' sidelines in all our glory, what that man's name is so we can preach his example to others. 
So we can open up to our friends and impart life's wisdom to our sons that: "hey man, no regrets. But if I could trade it all?"
"I'd trade it all to be that guy."
UPDATE: According to a source inside the 49ers organization with game field access: "Ha, i don't know [who he is] but I see him all the time at headquarters, The Stick, and away games. he's definitely on the football ops side of things but i don't know. I feel like he's always on the sidelines, ball boy?"
The source went on to say she's "going to talk to him" next time she sees him. Check back for more updates! 
UPDATE: Just who is this bro? The search is starting to get high-brofile, garnering attention from 49ers loyals, personell, and actual friends and family of this bro.  Take to Twitter to show your support for the search and be sure to include the hashtag #whoisthisbro — Just don't tell the Giants 'til after Harbrah's 49ers get to the Suberbrowl!
UPDATE: The Bro has been found! Thanks to all the bros who contributed in the bro-vestigation. Cheer on The Bro or show some love at his new 49ers Bro Facebook brofile.