Sport of Kings Now Driven by Partnerships: Get in the Game!
January 18, 2012

The most important honor given at thoroughbred racing's Eclipse Awards on Monday night was the Award of Merit for outstanding lifetime achievement given to Cot Campbell, the 84-year-old president of Dogwood Stable, for pioneering the concept of forming partnerships to own race horses. That foresight decades ago could now prove to be the saving grace for a sport in dire need of a boost in main stream popularity.
"It's just a thrill. What a great compliment. It's generated so many nice letters and phone calls from great friends and people everywhere. I'm overjoyed," Campbell told me in an interview this week. "Nobody ever received this award that will appreciate it more than I do."
The success of partnerships is the reason why they have grown to the point where in 2010 they made up 48 percent of the nearly 40,000 registered thoroughbred owners in the U.S. and Canada.
Dogwood's major success began with Summer Squall winning the Preakness Stakes in 1990 and continued when her daughter, Storm Song, won the Breeders' Cup Juvenile Fillies in 1996.
"We got lucky to come up with a horse that won stakes and generated exposure in the Wall Street Journal and New York Times," said Campbell. "If it's been a boon to racing I'm glad I started it, but if I hadn't I'm sure someone else would have because it was a logical idea."
Despite having success, Campbell acknowledges it's a speculative business to get involved with and while you might make money, you probably won't. However, "It's going to be a lot of fun and excitement and put some zest in your life."
The pinnacle of success for partnerships was reached in 2011, with Team Valor's Animal Kingdom winning the Kentucky Derby.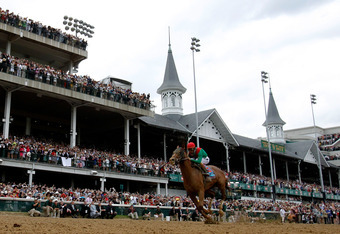 Rob Carr/Getty Images
"Winning the Derby was good for our business. We got a lot of new partners and it showed that something like this can be done," Team Valor's CEO Barry Irwin told me. "It also helped us bring a lot more players into the industry. Our guys spend a lot of money. They gamble, dine, go to the gift shop and buy winner's circle pictures."
Irwin describes getting involved with horse racing as "100% indulgence" and says that people should get involved for the experience and for the love of the sport and the animal.
"The popular notion is that people like me are taking advantage of people and just trying to make money," said Irwin, who from 1987-2011 won stakes races with 27 percent of his 443 starters. "Like in any business, sometimes you have to pay a premium to compete at the highest level. If you're winning big races year after year those people are getting return on their investment."
Increasingly, celebrity figures in sports and entertainment have become involved in partnerships and are helping to promote horse racing.
"I was extremely lucky that Jim Rome and I bonded and he got his start with us," Little Red Feather founder and managing partner Billy Koch told me. "Now, he just won a Grade III race on his own. This game is starved for that attention, especially in today's media-driven society."
Along with the economic stimulus of bringing more people to the track, partnerships serve as one of the best tools for a grass-roots marketing campaign to bring more people into the sport.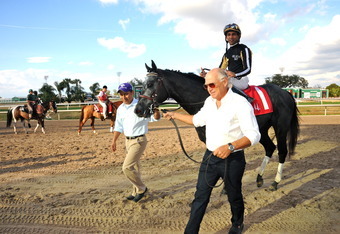 "Partnerships are almost a breeding ground for owners. We provide a general road map and complete experience for those looking to get in the game," said Koch, whose Singletary won the Breeders' Cup Mile in 2004. "The more big names we can bring in the better and a lot of these big names don't want to jump in with both feet into the deep end."
In the midst of their recently concluded run in the NFL playoffs, New Orleans Saints quarterback Drew Brees, head coach Sean Payton and general manager Mickey Loomis, who are partners in Last Mango Racing Stable formed by Saints vice president of communications Greg Bensel, experienced the thrill of seeing their Who Dat Ambush cross the wire first in a race at Fair Grounds.
And who was that escorting Who Dat Ambush into the winner's circle?
Last Mango partner Jimmy Buffett, of course. Yes, that Jimmy Buffett.
"Both winning a horse race and winning a football game are two of the hardest things to achieve. So when you are fortunate enough to get a win, you cherish it," Bensel wrote me in an email. "We enjoy our group and promoting horse racing. We try to get as many people and friends involved because horse racing is really an awesome experience."
The members of the Saints are not alone when it comes to NFL'ers getting involved in horse racing partnerships.
Cleveland Browns wide receiver Jordan Norwood and punter Reggie Hodges are part of Pippin Jordan Hodges Racing and have approximately 50 horses currently in training.
With that many ponies, there's sure to be bumps in the road, as @jordaNorwood described to me by tweeting, "They're doing pretty well! A couple had gotten sick bc of the weather but working on getting them healthy and running again. Thanks!"
And, New England Patriots wide receiver Wes Welker recently held a contest on Twitter to name his newest equine acquisition, with "Move the Chains" being selected as the moniker.
Due diligence and proper research to find the partnership that is best for you are common themes, along with having realistic expectations and having fun.
"Everybody has the dream to win the Derby, which is healthy because it gets people involved, but you can't expect to win the Derby," John Popovich, a partner with Fantasy Lane Racing Stable, told me. "People don't understand the amount of work and luck it takes to keep any horse sound and racing. When you get into the winner's circle, enjoy the moment, because you don't know when you're going to get back there."
The newest offering in the world of horse racing partnerships comes from one of the most influential figures in the sport, with Eclipse Award-winning breeder and race track owner Frank Stronach recently unveiling a plan where one can purchase a share of a race horse for just $10.
Campbell was well ahead of his time with the concept of fractional horse ownership, which is why his award of merit is well-deserved for the courage he had to make it happen. The decades of proven success have resulted in the foundation needed for the industry to leverage the continued growth of partnerships into increased involvement in the sport.
"He paved the way for other partnerships to not be frowned upon. For so long it was the Sport of Kings and one person was special because they owned the horse," said Koch. "The stigma of being in a partnership is no longer. People understand this is an expensive game and in order to continue to participate in this sport at an affordable level it makes sense to join a partnership."
Make sure to follow me on Twitter @mdoche for much more and visit www.pick4blog.com for daily selections and analysis!
To view my horse racing channel on YouTube click here!
Listen to my weekly HD Los Angeles sports podcast!
Also check out my So Cal Scoop Blog on Horse Racing Nation!