Dwight Howard Trade Rumors: He Is Chicago Bulls' Only Chance to Reach NBA Finals
January 18, 2012

Kevin C. Cox/Getty Images
A dominant regular season for the Chicago Bulls will mean nothing if they are unable to dethrone the Miami Heat from the top of the Eastern Conference and reach the NBA Finals.
The only chance the Bulls have of doing that is by going all-in on a title this year and pulling the trigger on a deal for Orlando Magic center Dwight Howard.
A projected trade would likely involve a package surrounding Joakim Noah, Luol Deng, Taj Gibson and draft picks in exchange for Howard and Hedo Turkoglu.
This trade makes sense for the Magic because they get all-star caliber players in Noah and Deng, while Gibson is an athletic power forward who many feel has a high ceiling.
While none of these players is an Andrew Bynum-type star, getting three good players may work better than one star, as the Denver Nuggets are showing this season.
For the Bulls, it gives them arguably two of the top five players in the NBA. More importantly, it finally gives Derrick Rose a player to defer to. Rose says he wants to get everyone else involved more, so who better to get involved than the best center in the game?
With the Bulls current roster, Chicago cannot survive another postseason of Rose shooting 39 percent, like last year. It wasn't all his fault—LeBron James is as good as it gets defensively, and Rose didn't have enough help around him to make the next step.
Just like this year.
Rose's early season is also a concern. If his current injury becomes serious or nagging all year, Howard would be capable of carrying the team, which is something no other player on the Bulls can do.
Bulls fans who thought Rip Hamilton was the missing piece of a championship team are sadly mistaken. It should come as no surprise that Hamilton has struggled to stay healthy this season. It's been four years since he has played in at least 70 games in one season. He also isn't capable of creating when Rose needs the help.
Offensively, the addition of Howard would open up the floor for Rose immensely. Yes, Howard's post moves won't be used for any fundamentals films any time soon. But with his size, he still requires a double-team against most teams.
There are only five players on defense, so anytime you have two players requiring a double-team, it leaves someone open.
Whether it's Rose one-on-one on the perimeter, Howard one-on-one in the post or an open Turkoglu, Hamilton or Kyle Korver spotting up, the Bulls would have an array of talent to beat teams with.
Additionally, the opposing team's best post defender would have to guard Howard, leaving Carlos Boozer guarded by the poorer defender, frequently giving him the advantage.
Many fans will drool over the potential pick-and-roll combination of Howard and Rose, but ideally Boozer would be involved. Boozer presents the dual-threat of the ability to finish at the rim as well as the skill to step out for a jump shot. Pair that with Howard at the rim or Rose on a drive, and it could be one of the most lethal offensive attacks in the league.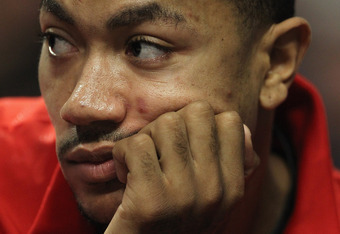 Jonathan Daniel/Getty Images
The loss of Deng would hurt most defensively. Turkoglu is quite the defensive downgrade from Deng. However, having Howard protecting the rim can hide any deficiencies that Turkoglu or any other perimeter defender may have.
If the goal is to beat the Heat—and it is—then stopping Dwyane Wade and LeBron James is step one. While Deng can stay with LeBron defensively, let's face it: LeBron can get to the rim on anyone. Who better than Howard to be awaiting his arrival there?
The Heat have two glaring weaknesses: point guard and center. Forcing Miami to try to contain one of the best point guards in the NBA and the best center in the game would attack those two very specific weaknesses and better Chicago's chances against the Heat in the playoffs.
Yes, the Bulls aren't on Howard's shortlist of requested destinations, so signing him to an extension isn't a guarantee. But pairing him with Rose for a season and seeing the combination that it forms may be enough to convince him to stay.
Even if Howard didn't re-sign with the team, though, the Bulls cupboard wouldn't be completely dry.
Omer Asik is regarded well within the organization and could be even better than Noah in a few years.
Jimmy Butler, although having played limited minutes, has shown the ability to play well in the NBA and be a potential starter in the future.
The Bulls wouldn't be looking at an all-or-nothing approach with the pieces that will still be there. There's always the possibility of using the amnesty clause next season on Boozer and going after a free-agent such as Kevin Love.
And any Miami Marlins fan will tell you this: fans will trade three years of stepping back to take the one step up onto the stage to raise a championship trophy just once.