Red Sox First Injury of 2012: Carl Crawford Likely to Miss Opening Day
January 18, 2012

Darren McCollester/Getty Images
"....And neither snow, nor rain, nor heat, nor gloom of night, nor the winds of change..."
That's right, it doesn't matter that it's winter, it doesn't matter that the Red Sox have new players, a new manager or even a new general manager. Nothing can seem to stop injuries from impacting the Boston Red Sox. 
In 2010 it was Pedroia's foot, Ellsbury's ribs and Youk's thumb. 
In 2011 it was Lester's oblique, Youk's back, and Beckett's ankle. 
Pitchers and catchers have yet to report, truck day is still several weeks away but fear not because apparently the Red Sox already have a starting player injured and missing not just spring training games. Even opening day is not out of the question. 
The good news is that we know for sure that Carl Crawford was spending his offseason working out. It was during an offseason batting session that Crawford determined that the pain in his wrist was something he needed to have looked at.
The surgery which was referred to as "routine" by Red Sox general manager Ben Cherington. The surgery will cause Crawford to miss spring training and possibly an early part of the regular season.
It's not critical but the 2012 Red Sox are a team that can't afford a similar slow start as they experienced in 2011. Carl Crawford was one guy on the 2011 team that most fans felt would bounce back from his subpar season. There's still a chance that he'll do that but missing spring training and early games as well as recovering from wrist surgery are going to make his season much more difficult.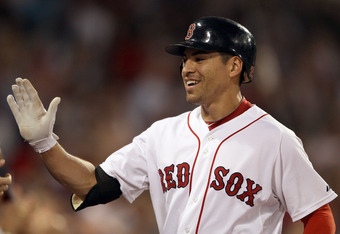 Elsa/Getty Images
It's also a blow to a team that already has questions surrounding it's outfield. The Red Sox dealt Josh Reddick, who was the young player most ready to assume a starting role on the team. J.D. Drew's contract expired and there's almost no chance of resigning him. Ryan Kalish will miss most of the first half of the season recovering from shoulder surgery.
Darnell McDonald, Ryan Sweeney and Mike Aviles can all fill in at both the open left and right field positions but the pool of available outfielders has shrunk considerably over the past month. Carlos Beltran, Ryan Ludwick, Andruw Jones, Coco Crisp, and other free agent have all been signed.
Heavily hyped Cuban free agent Yoenis Cespedes is still out there but he's going to command big money and that's not a path the Red Sox seem willing to travel down this offseason.
It's only January 18th but already no one knows who the opening day left and right fielders will be. That may or may not have a major impact on what all fans should remember is a very, very long regular season but it's not what anyone would describe as "ideal." For a team looking to erase the bad memories of a terrible finish to the 2011 season 2012 is already presenting some bad omens of it's own.