Fantasy Golf 2012: Previewing the Humana Challenge
January 17, 2012

Scott Halleran/Getty Images
They say football is a game of inches. Golf is a game of inches, feet and yards, with each unit of measurement being equally important. It's nice if you're great off of the tee, but if you can't putt it's all for naught. Ditto if you have great short game but you strike the ball poorly.
When you play golf at the highest of levels, you realize just how much every shot counts. And it's not just missing a six-foot putt that you should have made. It might be missing a fairway by mere inches. But being in the rough changes your shot and instead of going right at the flag, you now have to play more conservatively. That means you get a par instead of a birdie. When you miss the cut or lose the tournament by a single stroke, it's those small things that you go back and reflect on.
This is all very difficult to deal with when you're the actual golfer. In fantasy golf, you're at the mercy of the player(s) you have chosen this week. Sure it's like that in all fantasy sports, but golf is really the only fantasy sport where a player can quickly give back or negate all of their progress. One second it looks like you're cruising to a win. Fast forward twenty minutes, one hooked drive and a three-putt later and you're looking to see what placing 18th does for you.
With all of that being said, welcome to Week 3 of fantasy golf. If you're new to fantasy golf or you aren't clear on the rules and formats, no worries. Just click here to check out my primer from Week 1.
This week we leave the island of Hawaii to head for sunny California. The Humana Challenge (in partnership with the Clinton Foundation) will be held on three courses: the Palmer Course at PGA West will be the host course, while the Nicklaus Course at PGA West and La Quinta Country Club will also be in the rotation.
As we get deeper into the season, we are seeing the quality of the field improve, and that holds true here with players like Phil Mickelson and Matt Kuchar making their season debuts. It's not an easy thing to try to predict who will win any given tournament with a deep and talented field.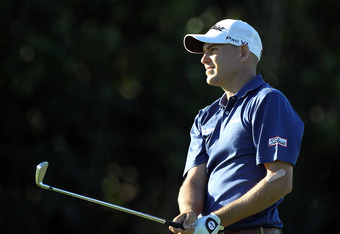 Sam Greenwood/Getty Images
We are going to try to identify golfers who are a good fit for a particular tournament, especially if they are golfers you might not anticipate using many other places this season.
This is an event that typically sees quite a few very low scores get posted. With that, we are looking for golfers who can rack up birdies in addition to doing a good job hitting greens in regulation while wielding an above-average game with the putter.
As the "kids" these days would ask me, "Who ya got?"
Yahoo! Weekly Lineup Game
Group A
MATT KUCHAR (Starting)—Kuchar is one of the elite fantasy golfers, so burning one of his starts early is worth consideration. His game fits perfectly here as Kuchar finished 2011 ranked 26th in Strokes Gained Putting (.445), 15th in Birdie Average (3.94) and 4th in Scoring Average (69.51). His last two finishes in this event are 7th and 2nd.
KYLE STANLEY (Bench)—When you start a player like Kuchar, you are not expecting to use your bench player. So why not choose a player whom you most likely won't choose very often who has the potential to post some sick low scores? Stanley finished 30th in Greens in Regulation (68.21%) and 11th in Birdie Average (4.00) on the PGA Tour in 2011.
Group B
BILL HAAS (Starting)—Haas is one of the favorites this week, and rightly so. In 2011, he finished 11th in Greens in Regulation (69.44%) and 22nd in Birdie Average (3.71). In his past two appearances in this event, he tied for 2nd in 2011 and won the event in 2010.
BRYCE MOLDER (Starting)—I already used Molder once this season and he rewarded me with a top-10 finish. His skill with the putter is what makes him so attractive here. Molder finished third in Strokes Gained Putting (.745) and fourth in Total Putting (57.3) in 2011.
CHRIS KIRK (Bench)—Kirk finished 2011 ranked 27th in Birdie Average (3.79) on the PGA Tour. He's been solid in two 2012 starts so far and finished tied for seventh in this event in 2011.
BRANDON DE JONGE (Bench)—He has been a notoriously inconsistent player, but he has the ability to post some very low scores. In 2011, he finished 29th in Birdie Average (3.78) and 42nd in Strokes Gained Putting (.296) on the PGA Tour. He had a top-10 finish in his only start so far in 2012 and he's finished 25th and 33rd in his last two appearances in this event.
Group C
MARTIN LAIRD (Starting)—With so many golfers in "Group C" it is very difficult to get down to just two. Laird jumps out due to his ability to score low. He finished 19th last season in Birdie Average (3.86) and finished 29th in Total Putting (122.7) in 2011. He finished 2nd in his only start so far in 2012 and he finished tied for 22nd in this event last season.
BRIAN GAY (Bench)—Had I not already started Gay this season, I might have started him over Laird. He is an outstanding putter, finishing 17th on the PGA Tour in 2011 in Strokes Gained Putting (.509). He also finished 26th in Scoring Average (70.21). Gay finished tied for sixth at the Sony Open in his only 2012 start so far. In his last three appearances in this tournament, he has finished 5th, 15th and 5th.
Easy enough, right? Now, who do you pick in your Weekly/Survivor/Eliminator/Earnings League?
I would consider all of my Yahoo! options, but it's probably too early (and too small of a purse) for me to consider burning Kuchar already.
Normally I would sweat this decision a bit more, but it's pretty clear for me this week: I'm going with Bill Haas. This is his best event and I'm not sure where I will end up using him this season if I don't use him here. He's a top-5 favorite by the odds-makers for a reason. The only real downside here is that a large number of people will probably also use Haas. But if he wins, how can you go wrong?
PREVIOUSLY USED: Bryce Molder & Steve Marino
Good luck to everybody this week. If you have anything to add or if you have any questions, please use the comments feature below. If you have a specific golf player/lineup question, please provide as many specific details about your league/team as possible. Thanks for reading.
Follow John on Twitter
Check out John's other work on Bleacher Report