NFL 2012 Draft Order: Teams That Should Trade Up in the First Round
January 16, 2012

Thomas B. Shea/Getty Images
The 2012 NFL Draft order is almost officially set, and a few teams will be looking to improve their current position.
Last year, there was plenty of activity in the first round, as the Browns, Falcons, Jaguars and Saints all traded up.
If they're smart, these three teams will follow suit in 2012.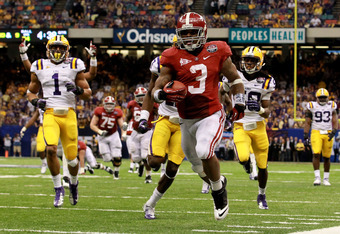 Ronald Martinez/Getty Images
Cincinnati is one of three teams with multiple first-round picks in this year's draft. However, they don't have many holes to fill.
They should trade the 17th and 21st overall picks and move into the top three so they can draft Alabama running back Trent Richardson.
Richardson is the best running back available and it's not even close. He's one of the most violent runners I've ever seen, as evidenced by his filthy 57-yard run against Auburn.
Cedric Benson is a decent back, but the 29-year-old won't be productive for much longer. In fact, he wasn't that productive this season. He only averaged 3.9 yards per carry and he found the end zone just six times.
The Bengals already have a great young duo in Andy Dalton and A.J. Green. If they add Richardson to the mix, they will be set for the next few years.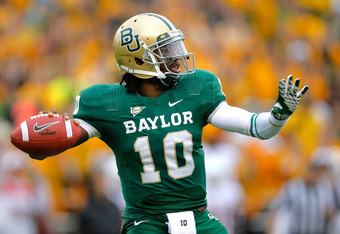 Sarah Glenn/Getty Images
The Redskins desperately need an upgrade at quarterback, and Heisman trophy winner Robert Griffin III would be a great fit.
Unfortunately for Washington, his stock is soaring and he probably won't be on the board when the Redskins draft seventh overall. The Miami Dolphins and Seattle Seahawks both need quarterbacks and may leapfrog Washington in pursuit of RG3.
If the Redskins don't want to suffer through another season of Rex Grossman, they should trade up and secure Griffin III.
The St. Louis Rams and Minnesota Vikings will both likely be looking to trade out of the top three. If the Redskins step in, they can snag their quarterback of the future.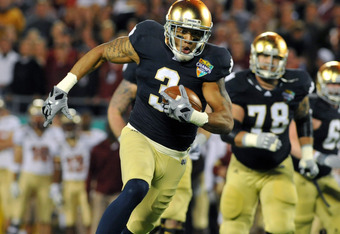 Al Messerschmidt/Getty Images
The Bears need another weapon for Jay Cutler, and luckily there are several options available.
This is one of the deepest wide receiver classes in recent memory, as four prospects (Justin Blackmon, Michael Floyd, Alshon Jeffery, Kendall Wright) are projected to go in the first round.
However, with all of their stocks rising, they may be gone when Chicago picks at No. 19. The Bears should trade up to make sure they can add a young receiver to their talented offense.
This season, Cutler and Matt Forte were having career years before suffering injuries. If Chicago can add one of the draft's top receivers, they'll be able to hang with the Packers and Lions next season.
Here is the current 2012 NFL Draft order. Picks 29-32 will be decided after the playoffs.
1. Indianapolis Colts - 2-14 (.539)
2. St. Louis Rams - 2-14 (.590)
3. Minnesota Vikings - 3-13 (.559)
4. Cleveland Browns - 4-12 (.531)
5. Tampa Bay Buccaneers - 4-12 (.551)
6. Washington Redskins - 5-11 (.477)
7. Jacksonville Jaguars - 5-11 (.500)
* 8/9. Carolina Panthers - 6-10 (.504)
* 8/9. Miami Dolphins - 6-10 (.504)
10. Buffalo Bills - 6-10 (.520)
* 11/12. Kansas City Chiefs - 7-9 (.512)
* 11/12. Seattle Seahawks - 7-9 (.512)
13. Arizona Cardinals - 8-8 (.469)
14. Dallas Cowboys - 8-8 (.473)
15. Philadelphia Eagles - 8-8 (.488)
16. New York Jets - 8-8 (.500)
17. Cincinnati Bengals (via Oakland Raiders) - 8-8 (.504)
18. San Diego Chargers - 8-8 (.516)
19. Chicago Bears - 8-8 (.527)
20. Tennessee Titans - 9-7 (.461)
21. Cincinnati Bengals - 9-7
22. Cleveland Browns (via Atlanta Falcons) - 10-6
23. Detroit Lions - 10-6
24. Pittsburgh Steelers - 12-4
25. Denver Broncos - 8-8
26. Houston Texans - 10-6
27. New England Patriots (via New Orleans Saints) - 13--3
28. Green Bay Packers - 15-1
*Picks will be decided by coin flip.