Jim Harbaugh: Breaking Down the Many Faces of the San Francisco 49ers Head Coach
January 17, 2012
Christian Petersen/Getty Images
First, to get the obvious out of the way: The San Francisco 49ers finally found the man to lead their once-proud franchise in Jim Harbaugh. 
After a decade of the Bay Area watching a coach whose leadership never translated beyond the college game, one who managed to alienate the team's franchise quarterback and another whose motivational tactics involved pulling his pants down, 49ers fans can smile once more as Harbaugh has the 49ers back in the NFC Championship game for the first time since 1997.
So why, exactly, has Harbaugh been so much more successful than his predecessors? 
Offensive-minded coach? Right place, right time? Ex-player who commands greater respect? Simply a better coach? 
Sure. Those all contributed to some extent. 
One underrated facet to Harbaugh's meteoric rise that has gone largely unnoticed by most, though?
The man has a killer face. Or, to be more precise, he's got amazing facial expressions, from the dumbfounded oh-that's-the-Alex-Smith-they-told-me-about look to the irate, screaming mug that could make Gunnery Sergeant Hartman blush. 
There's plenty of time to dissect Sunday's tilt between the New York Giants and the 49ers from an actual football perspective, but we'll let much more suited football minds do that. 
Instead, let's get into Harbaugh's head and attempt to break down the man's face.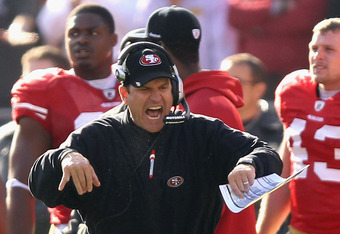 Ezra Shaw/Getty Images
Here, Harbaugh is channelling his inner European and performing soccer/futbol's universal "diving" motion.
Damnit, Michael Crabtree! If you're going to drop the ball over and over and over again, at least flail around on the ground writhing in pain so at least people think you just got hurt and aren't actually THAT bad.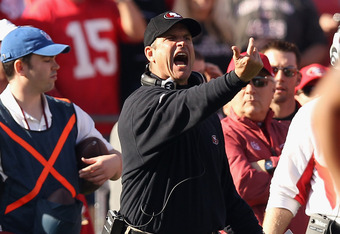 Ezra Shaw/Getty Images
Here, Harbaugh disagrees with a call on the field and summons the referee to him so he can eat him. 
That call was worse than my wife's beef stew! Get over here, I'm going to fix my appetite and rid myself of your putrid officiating in one fell swoop.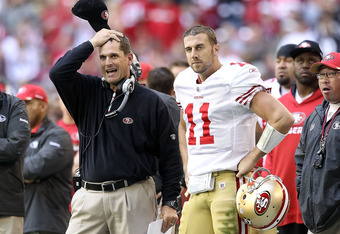 Christian Petersen/Getty Images
Here, Harbaugh experiences a 2005-2010 Alex Smith moment, not the 2011 Alex Smith he's grown to love. 
Huh, so you were the reason all those coaches got fired, after all. Here's a tip, kid: When in doubt, just be more like I was during my playing days. 
Here, a younger Harbaugh finds a kid in his locker. 
Fifteen years from now I'm going to think of these cute little whippersnappers who innocently committed breaking and entering whenever I have to deal with the traffic around Candlestick Park as a coping mechanism.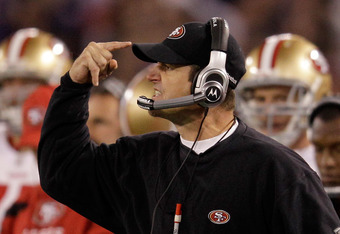 Rob Carr/Getty Images
Here, Harbaugh reminds a detractor what team he coaches for.  
I coach in San Francisco, dude. I don't care if our stadium is one of the worst in professional football. If you anger me again, I'll tell the city to have an earthquake the next time you're in town. That's how much the Bay Area loves me—it lets me control its seismic activity.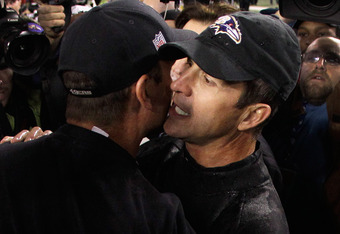 Rob Carr/Getty Images
Here are two Harbaughs after big bro John's Baltimore Ravens topped little bro Jim's 49ers on Thanksgiving. 
Man, I really wish I hadn't let you win that one time at Candy Land when we were in elementary school. Now you've beaten me twice.
At least I've got that whole prolific college quarterbacking career and a 14-year NFL career to hang my hat on, otherwise you'd really have the upper hand on the sibling rivalry.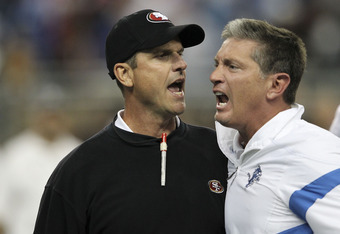 Leon Halip/Getty Images
Here, Harbaugh has a bro-off with Detroit Lions head coach Jim Schwartz over a handshake or something. Bros take handshakes very seriously. 
Whoa, I thought we did the fist bump AFTER the initial shake, not before. We practiced this beforehand for two hours. OK, we're fighting over this.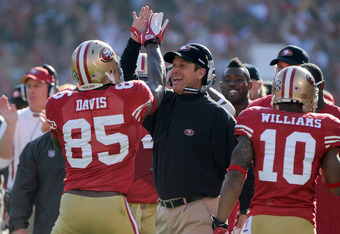 Thearon W. Henderson/Getty Images
Here, Harbaugh experiences pure, unadulterated, kid-in-a-candy-store-that-also-has-firetrucks-video-games-and-puppies-like joy. 
Who's got it better than me? Nobody!