Jrue Holiday: Ball Security Taken Seriously Saturday Night Against Washington?
January 15, 2012

Chris Graythen/Getty Images
Did Jrue Holiday take ball security seriously in tonight's game in the nation's capitol against the Washington Wizards? Can any observer blame him if he didn't?
After all, does anyone in the NBA take ball security seriously against this year's Wizards? I'd venture to say almost every player gets a little slipshod against the NBA team in Washington.
Therefore, I'm not sure if I can blame any young point guard for going willy-nilly with the rock against the Wizards.
Coming into tonight's action, though, the Wizards had beaten Philadelphia four straight times in Washington. But, it seems this year that the wretched Wizards appear to be on the verge of having four flat tires plus a deflated spare.
So, would the winning streak continue? After losing to Holiday and the Sixers last night in a big way, Washington had the opportunity to go right back at them.
But, instead of Holiday giving the ball away early tonight, it was John Wall who had a first quarter full of turnovers. The Wizards had seven in the period.
After trailing by 10 points after the first quarter last night, the Wizards led Philly tonight by three after one. Looking for their second win of the season, it appeared that Washington came to play tonight.
Or did they?
JaVale McGee did. He scored 10 points, snatched five rebounds and blocked two shots in the first period. He had an outstanding game against the hobbled Spencer Hawes who struggled at times in this one. McGee finished with 23 points, 18 rebounds and five blocks.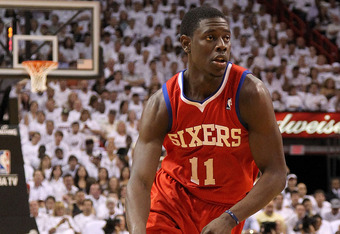 Mike Ehrmann/Getty Images
Meanwhile, Holiday finished with 13 points and three rebounds. He also produced a first quarter without a personal turnover. Good for Jrue.
He finished the first period with a tally of one assist, a steal and a bucket. He then completed a three-point play after sinking a free throw early in the second period.
Philadelphia was up 30-28 with about 10:00 to go in the second quarter. The 76ers went on a 9-2 run to open the second. Andre Iguodala carried the Sixers to a halftime lead and continued to play well in the second half.
So did Holiday, in the third quarter, he and the Sixers continued to build their lead. Resisting the urge to go willy-nilly, Jrue was solid with the ball in his hands.
He was dribble-driving and dishing, hooking up a couple of times with Elton Brand—once for a Brand dunk and once for two free-throw attempts for Elton. Holiday finished the game with two assists and two turnovers.
So did his backcourt running-mate, Lou Williams. "Sweet Lou" also poured in 24 points and collected five rebounds.
I'm blessed enough to have both Holiday and Williams on my fantasy basketball team this year. Add the fact that I also have JaVale McGee and Spencer Hawes, as you can probably guess, I'm currently in first place.
My squad needs to cut down on the turnovers, though. Help me out guys—Lou and Jrue. Williams is one of the leading candidates for Sixth Man of the Year, by the way.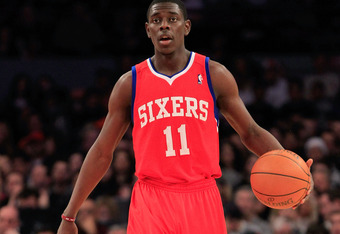 Chris Trotman/Getty Images
Around the way in Washington tonight, the visiting team from Philly helped one another on defense for most of the game. The 76ers held the Wizards to 40-something field-goal percentage shooting and won the game, 103-90.
As the Gatorade National Player of the Year in 2008, Holiday is known to be a solid shooter and scorer. In the back-to-back romps against the Wizards this weekend, he seemed to take ball security seriously throughout the second game.
While Washington has been a bad joke this season, the Sixers seem to be taking first place seriously. They expanded on their Atlantic Division lead against the Boston Celtics, New York Knicks, Toronto Raptors and New Jersey Nets tonight.
Philadelphia (9-3) leads the division by 3.5 games over New York (6-6), 4.5 over Boston (4-7), 6.5 over Toronto (4-9) and seven over New Jersey (3-10).
Why isn't the city yet behind this team more? I'm not sure, but I'll be watching to see if Philly gets behind the Sixers more going forward.
I'm going forward to enjoy the rest of the night. Catch me next time on "Lake's Philadelphia 76ers Files."
Contact Lake Cruise: Lakecruise@att.net.