Detroit Pistons Draft Targets: Anthony Davis, Kentucky
January 13, 2012

Andy Lyons/Getty Images
Obviously, the season is still in its infant stages. The Detroit Pistons have only played 11 games so far.
But given the truncated schedule, the Pistons' season is now about 17 percent over.
And with only two wins thus far, the Pistons are on pace for roughly 12 wins. For some of us that have seen them play, that may be a generous figure to shoot for.
That being said, it is quite likely that the Pistons will figure in the 2012 NBA draft lottery, quite possibly one of the top three picks.
This is the first in a series exploring some of the players that the Pistons could target in this year's draft.
Obviously this is dependent on the players declaring, but this figures to be a very deep draft and most of the players that I will be highlighting are likely to be in this year's draft.
I will be discussing my own thoughts on these players, the scout's take and how they could fit with Detroit.
Anthony Davis, PF, Kentucky
My Take
Anthony Davis is perhaps the most dominant defensive big man to play in college basketball since Dikembe Mutombo and Alonzo Mourning roamed the paint at Georgetown in the early 1990s.
Davis is a 6'10", 220-lb freshman power forward from Chicago that dominates on the defensive end of the court for the Wildcats.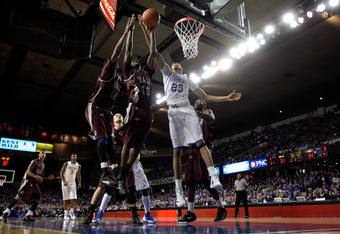 Andy Lyons/Getty Images
He currently is leading the nation in blocks (4.6 per game), and is averaging a double-double with 13 points and 10 rebounds per contest.
And while his unibrow makes him look a bit like a Turkish villain (one of our readers says he looks like "Angry Birds"), his frame makes him look like the second coming of Marcus Camby.
I have had a chance to watch Davis quite a bit, and as a fan of defense, Davis is my kind of player. He can truly intimidate the opposition and make guards think twice about attacking the hoop. He sets the tone early, and never vanishes.
Scout's Take from ESPN
Projection

No. 1 Pick

Positives

Long, athletic wing
Excellent rebounder and shot-blocker
Good ball-handler for his size
Excels at taking people off the dribble
Can defend multiple positions
Tough
Terrific motor

Negatives

Needs to add strength/muscle
Still figuring out how to play in the post
How He Fits Detroit
Davis is almost the ideal fit to Greg Monroe and the Pistons frontcourt. I agree with ESPN's assessment that Davis could use more size, but that will come.
He is also somewhat limited on offense, but that actually fits well with Detroit. The Pistons need a big man that can play top-notch defense, intimidate with shot-blocking and play near the hoop on offense to take advantage of penetration by Detroit guards and get easy putbacks.
His defensive rebounding is already outstanding, and that will only get better. What you really like is his motor and character, which would make him a perfect fit for what Detroit is going for these days.
Personally, I think Davis is the ideal pick for the Pistons. If you get a chance, take a look at a few of his upcoming games and try to picture this defensive ace playing in Auburn Hills.