The Other Side of NHL Relocation
January 13, 2012

Marianne Helm/Getty Images
When Winnipeg regained its long lost Jets, the reaction of local hockey fans, most fans in Canada, and elsewhere was wild rejoicing.
The NHL fronted by Commissioner Gary Bettman was crumbling at last with their "anti-Canadian" policy proved wrong
Winnipeg fans in particular had liked to point out that they could put more people into a small arena than the money-losing American franchises into a large one.
The third "fall of Atlanta" (once in the American Civil War, twice in hockey) confirmed their arguments.
The return of the Winnipeg Jets is being seen as the beginning of the end of the NHL's long-term policy initiated by Bettman in the 1990s:  To win a lucrative American television contract, the NHL had to expand to markets unfamiliar with hockey so that the league could portray hockey as an American national sport.
To that end, expansion to Canada and the northern United States was ignored, and three northern franchises, Hartford, Winnipeg and Quebec were allowed to fly south without much resistance (as opposed to what the NHL has done in Phoenix).
But economic reality finally caught up to the league and now there is a willingness to come back to the North, especially when gate revenues from Canada are being accounted for and the Canadian dollar is no longer a mere fraction of its American counterpart.
Already the vultures are circling over Phoenix and possibly the New York Islanders, New Jersey, Columbus and Florida.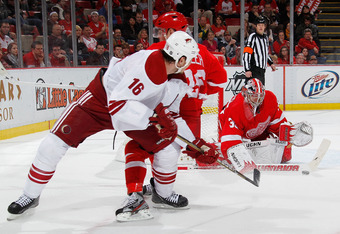 Gregory Shamus/Getty Images
Dallas had to be rescued by a Canadian owner and Colorado isn't drawing too good either.
Canadians are almost certain that Quebec will get its team back and Toronto and Hamilton are voicing demands for a second southern Ontario team.
Bettman has said that Hartford can have its Whalers back too if they provide credible ownership and an NHL size arena, and Seattle might one day compete again for the trophy they won back in 1917.
But in truth, it would be better if these cities get expansion teams instead of relocated ones.
Relocation as viewed in Canada and the northern United States may mean the righting of a wrong and a return to hockey roots, but the flip side of it means failure—the failure of the sport of hockey to grow and be popular.
Bettman's southern hockey policy may have been a wrong strategy and a mere ploy to get a lucrative television contract, but the failure of Atlanta and other cities means that hockey has failed to expand and become popular in America.
Hockey has been a good plant in Tampa Bay, San Jose and Anaheim.
It's taken time to catch on in Carolina and Nashville.
Dallas and Colorado seem to have forgotten that they once had good teams that won the Stanley Cup.
When it comes to sports in the United States, hockey (if it can be considered as a 'big four" sport) is still No. 4 with a long way to go to attain the popularity of baseball, football and basketball.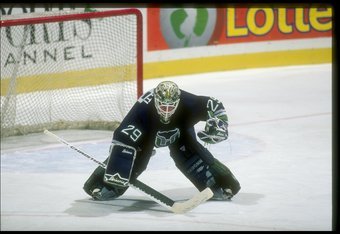 Al Bello/Getty Images
Instead it is like a new flower from abroad, a hybrid trying to take root in alien soil.  When Canadians gloat at the failures of hockey in the southern United States and the return of franchises to the North, they forget that "their game" is not popular elsewhere.
It's fortunate that other Canadian exports don't get treated the same way; there would be a lot of bankruptcies and companies going out of business.
And trying to plant a new sport in a strange market will be even harder in the future because the current economic crises have left millions with a struggle for survival and sports a mere dream.
Hockey won't be trying to become an American national sport for a long, long time.
It's interesting to note that hockey isn't expanding that well outside North America either.
When Europeans first began playing NHL professionals in the legendary Canada-USSR match of 1972, there were seven hockey powers:  Canada, USSR, USA, Finland, Sweden, Czech Republic, Slovakia (Czechoslovakia).
Forty years after that historic match, with the possible exception of Switzerland, competitive international hockey remains tied to its original seven country nucleus. 
There is little drama in the round robin of international tournaments like the recent 10-team World Junior Championships.  The only question is which two of the top eight teams are going to join the bottom two in the regulation round.
Ninth and 10th place are known in advance and games against such teams are laughable mismatches.
Even more horrific is women's international hockey which is primarily a two-country sport.  If competition doesn't improve, it may be expelled from the Olympics.
So when Canadians and hockey fans from non-NHL northern American cities read eagerly about the possibility of NHL franchises coming home, they can hold their breaths in joyful anticipation and ignore the fact that "their sport" has failed.