MLS Draft 2012: Andrew Wenger and Other First-Round Misses
January 12, 2012

Jamie Squire/Getty Images
In their first MLS SuperDraft, the Montreal Impact had a chance to grab the best player in the draft, Darren Mattocks. However, they went in a different route drafting Andrew Wenger, and it was one of the biggest misses in the first round.
Here are some of the misses from this year's draft. 
Montreal Selecting Andrew Wenger 
Wenger is a good player. In fact, he should have a wonderful career. However, it will not be as good as the career of Mattocks. 
Mattocks is the younger player. He has breakaway speed that other players wish they had. He scored 21 goals in 22 games last year for Akron. Mattocks could have been the franchise player that stuck around in Montreal for the next ten to fifteen years. 
Instead, Vancouver took the best player in the draft at No. 2, and they will succeed because of his offensive skills. 
Matt Hedges Drops to No. 11 FC Dallas
Hedges is the best defender in the MLS SuperDraft this year. However, Hedges was passed over by Portland and Chicago, when they selected Andrew Jean-Baptiste and Austin Berry. 
Now, Jean-Baptiste and Berry are good players, but they are not the same caliber as Hedges. 
Hedges carried North Carolina to a NCAA Soccer championship this year, and his 6'4" size makes him almost impossible to get around. 
Hedges had a poor showing at the MLS combine, so that may have resulted in him dropping to No. 11. But his misfortune will be FC Dallas' gain.
Hedges will have a great career in the MLS, and he should have a long career with FC Dallas.
Columbus Crew Selecting Ethan Finlay at No. 10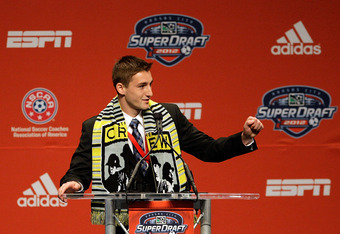 Jamie Squire/Getty Images
Columbus needed a speedy forward at the No. 10 pick in the draft. They could have gone with a player like the speedy Enzo Martinez from North Carolina. However, they went for a stretch with Creighton forward Ethan Finlay.
Finlay's coach at Creighton, Elmar Bolowich, had this to say about his transition to the MLS in the Columbus Dispatch: 
"He has to adjust. The plays will be faster, the hits will be harder and the players a little bit better so he has to figure those things out. Given the opportunity and the time to adjust, he will do that. He's a very, very smart player with lots of intelligence and discipline. I have all the confidence in the world that he will make it." 
Finlay made a name for himself at the combine, which could come back to haunt the Crew. They should have made the safe pick with Martinez, not with Finlay. 
Two of three draft selections were mismanaged by their MLS clubs. Hopefully, for Columbus and Montreal, their misses do not come back to haunt them.