2012 NFL Mock Draft: Where Trent Richardson and Dre Kirkpatrick Could Land
January 13, 2012

Ronald Martinez/Getty Images
On Thursday, Alabama's Trent Richardson, Dre Kirkpatrick and Dont'a Hightower decided to forgo their senior seasons and declare themselves eligible for the 2012 NFL Draft.
The announcements for the three came on the heels of Alabama's 21-0 win over LSU in the BCS National Championship game on Monday. In that game, Richardson rushed for 96 yards and a touchdown, and both Kirkpatrick and Hightower were big parts of a defense that allowed just 92 yards.
The choice was never in question for the three, as each is almost universally regarded as a first-round quality player. 
Both Richardson, who rushed for a school-record 1,679 yards and 21 touchdowns, and Kirkpatrick are projected as top-15 picks in April. Hightower is widely assumed to be a first-rounder, too.
With that in mind, let's run down in our 2012 mock draft where the three players may wind up.  
1.  Indianapolis Colts—Andrew Luck, QB, Stanford
2.  St. Louis Rams—Justin Blackmon, WR, Oklahoma State
3.  Minnesota Vikings—Matt Kalil, OT, USC
4.  Cleveland Browns—Robert Griffin III, QB, Baylor
5.  Tampa Bay Buccaneers—Morris Claiborne, CB, LSU
6.  Washington Redskins—Alshon Jeffery, WR, South Carolina
7.  Jacksonville Jaguars—Riley Reiff, OT, Iowa 
8.  Carolina Panthers—Michael Floyd, WR, Notre Dame
9.  Miami Dolphins—Quinton Coples, DE, North Carolina
10.  Buffalo Bills—Courtney Upshaw, OLB, Alabama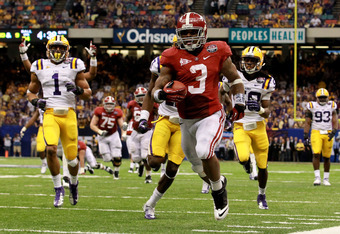 Ronald Martinez/Getty Images
11.  Kansas City Chiefs—Trent Richardson, RB, Alabama
Too low? Possbily. But if the Cleveland Browns pass on Richardson for a quarterback early in the draft, which team is going to take him? There's a chance he could fall out of the top 10, and that's where the Chiefs come into play.
Kansas City will be getting back Jamaal Charles in 2012, so drafting Richardson would almost be a luxury at pick 11.
However, consider the 2010 season, when the Chiefs won 10 games and the AFC West while leading the NFL in rushing. They used Charles and Thomas Jones in a run-heavy offense that fit their style. With Charles blowing out his knee early in 2011 and Jones quickly regressing into the twilight of his career, the Chiefs run game suffered and wins fell.
By adding Richardson, the Chiefs could get back to their 2010 level of rushing prowess.  
12.  Seattle Seahawks—Devon Still, DT, Penn State
13.  Arizona Cardinals—Jonathan Martin, OT, Stanford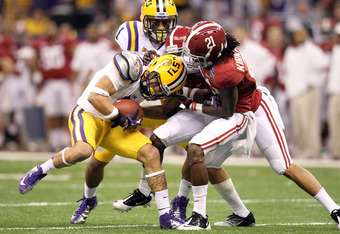 Andy Lyons/Getty Images
14.  Dallas Cowboys—Dre Kirkpatrick, CB, Alabama
Kirkpatrick has put himself in the discussion for being a top-10 pick, so there's no way he's getting past the Cowboys at No. 14 if falls this far. A tall, physical corner, Kirkpatrick would immediately become the Cowboys' most talented player in the secondary. And in Dallas, there's no bigger need than at cornerback and safety. It's a win-win situation. 
15.  Philadelphia Eagles—Luke Kuechly, LB, Boston College 
16.  New York Jets—Ronnell Lewis, LB, Oklahoma
17.  Cincinnati Bengals—Whitney Mercilus, DE, Illinois
18.  San Diego Chargers—David DeCastro, OG, Stanford
19.  Chicago Bears—Janoris Jenkins, CB, North Alabama
20.  Tennessee Titans—Melvin Ingram, DE, South Carolina
21.  Cincinnati Bengals—Kendall Wright, WR, Baylor
22.  Cleveland Browns—Mike Adams, OT, Ohio State  
23.  Detroit Lions—Alfonzo Dennard, CB, Nebraska
24.  Pittsburgh Steelers—Cordy Glenn, OL, Georgia
25.  Denver Broncos—Lamar Miller, RB, Miami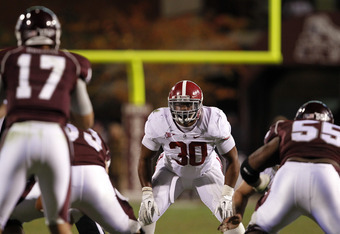 Butch Dill/Getty Images
26.  New York Giants—Dont'a Hightower, LB, Alabama
Hightower's lack of sideline-to-sideline speed will drop his value out of the top 20 picks. However, you won't find many more instinctive defenders in this draft than Alabama's middle linebacker. 
The Giants could use a tackling machine behind their front four, so this pick fits at No. 26. Hightower could be an impact starter in Year 1 with the Giants. 
27.  Houston Texans—Dontari Poe, NT, Memphis
28.  Baltimore Ravens—Vontaze Burfict, LB, Arizona State
29.  New England Patriots—Peter Konz, C, Wisconsin
30.  San Francisco 49ers—Mohamed Sanu, WR, Rutgers
31.  New England Patriots—Mark Barron, S, Alabama
32.  Green Bay Packers—Nick Perry, OLB, USC