NFL Playoffs 2012: Why We Need Tom Brady vs. Aaron Rodgers in the Super Bowl
January 13, 2012
Everybody likes a good old-fashioned shootout. And that's why everyone wants to see the New England Patriots play the Green Bay Packers in Super Bowl XLVI.
Look, I understand if your favorite team is still in the playoffs and has a shot to win it all. But if they don't make it all the way, you have to admit that at least some part of you wants to see a showdown between the Patriots' Tom Brady and the Packers' Aaron Rodgers.
That's the thing about sports—and the media plays a big role in this, as well. Rivalries are built up between two players who have never even played against each other, and this is what we've seen as the Brady vs. Rodgers talk has built up this season. It's not just in the NFL, either, as this happens in all sports, like Kobe Bryant vs. LeBron James. Players and teams are constantly being compared to one another and fans hold endless debate over who's better. So the natural reaction is to crave that matchup, a battle between the best of the best.
A Brady vs. Rodgers matchup.
Matt Ludtke/Getty Images
The NFL has changed from the battle in the trenches it used to be.  Fans don't want to see low-scoring games where defense dominates. They want to see aerial attacks. Fans want to see long touchdown passes and one-handed catches on the sidelines. And who are the best men at doing just that?
Tom Brady and Aaron Rodgers.
A Super Bowl that pits these two amazing quarterbacks against each other is a dream come true for the modern NFL fan. It's no secret that America has a soft spot for elite quarterbacks, and that's why a Patriots and Packers Super Bowl would be the best thing for the NFL.
People all around the country have been debating all season long whether Brady or Rodgers is the NFL's best quarterback. Both are great leaders and are amazing passers. Don't get me wrong, New Orleans Saints QB Drew Brees is certainly in the conversation, but he doesn't fit into the Brady vs. Rodgers equation.
Let's take a look at the circumstances.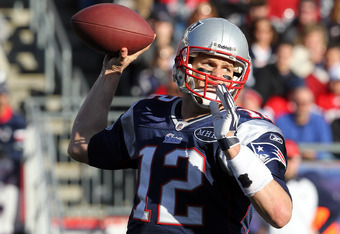 Jim Rogash/Getty Images
Brady has been the cream of the crop for 10 years now. The 34-year-old has won three Super Bowls, been named to seven Pro Bowls, won the MVP twice and that's not even the entire list of his accomplishments. In his career, he has a 63.8 completion percentage and has thrown 300 touchdowns compared to his 115 interceptions. Brady has thrown for 39,979 yards and has a quarterback rating of 96.4.
Now let's take a look at why Drew Brees isn't included in the conversation. Brees has a Super Bowl championship neath his belt, along with six Pro Bowl selections and two NFL MVP awards. He also holds the record for the most passing yards in a single season. He has more passing yards than Brady (40,742 yards) but only 281 touchdowns to his 146 interceptions. His quarterback rating is 94.0 with a completion percentage of 65.9. But he's 32 years old.
Tom Brady can't and won't pass the torch to Drew Brees to become the next great quarterback in the NFL. There just isn't enough of an age difference between the two. For all we know, they could retire in the same year because they are so close in age. But Aaron Rodgers is only 28 years old. Rodgers is in his prime.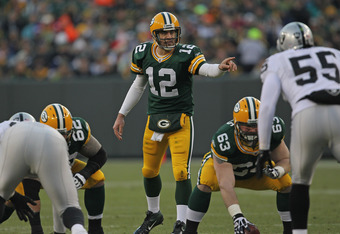 Jonathan Daniel/Getty Images
Thus far in his career, Rodgers has a quarterback rating of 104.1 while throwing for 17,366 yards, 132 touchdowns and 38 interceptions. His completion percentage sits at 65.4. The former Cal Bear has also been named to two Pro Bowls and has won a Super Bowl ring. Rodgers is also the only player in NFL history to throw for more than 4,000 yards in each of his first two seasons as a starting quarterback.
In 2011, Rodgers has arguably been the best quarterback in the league; he has thrown for 4,643 yards and 45 touchdowns with only six interceptions. His quarterback rating is at an insane 122.5. And again, he's only 28.
A game like this would be a perfect way for Brady to either pass along the torch to Rodgers or prove a point and say, "Hey! I'm not done just yet!" But regardless of the outcome, it would be a game for the ages.
Neither team is very good at defending the pass as both the Patriots and Packers sit at the bottom of the rankings for total defense and pass defense. Their secondaries gamble a bit too much and that has left them with vulnerable openings down the field—but thanks to their gambles, the two teams are tops in the league in interceptions.
Kevin C. Cox/Getty Images
How much fun would that be to watch? These offenses against those defenses? That would be awesome! The game would just a full-on aerial assault for an entire game. Both sides would just exploit every mistake by the defense and light up the scoreboards. It would be the anti-BCS National Championship Game. You know, the snoozer that was Alabama's 21-0 victory over LSU. I think we can all agree that we'd rather see the two best offenses go up against each other rather than the two best defenses again. So please, no Texans vs. 49ers.
I understand if you still want your favorite team to get to the Super Bowl over these two teams. But for the rest of us, this is the matchup we want to see. Two of the NFL's best quarterbacks lined up against each other, ready to prove why they are better—all with the ultimate prize on the line, the Vince Lombardi Trophy.
Brady vs. Rodgers: Super Bowl XLVI.
Let's make it happen, boys.