NBA Rumors: Tayshaun Prince Will Become Available If Pistons Continue Slide
January 11, 2012
Mark Dadswell/Getty Images
The Detroit Pistons are falling apart already and one of the few remaining stars, newly re-signed forward Tayshaun Prince, is already starting to get itchy for a departure.
Prince has been nothing but a team player since being drafted by the Pistons in the first round of the 2002 draft. But years of poor supporting casts and empty promises about playoff runs have left the star jaded.
While he always manages a smile for the cameras, Prince has become more and more visually displeased with how the team started the season. Who can blame him after watching his team fall to 2-8?
As much as the star wants the team to be playoff worthy, Prince told the Detroit News after another Pistons' loss:
Of course that's not how I envisioned it coming in, for it to be painful. I expected to see progress. It's setting in, don't get me wrong. Even though you're in a struggling process you want to see signs on a consistent basis. I'm always good playing through the rhythm of the offense. And our rhythm is just not there, we haven't picked it up. Hopefully it'll come as we continue but the improvement hasn't been there yet.
There is already trouble in paradise. From everything head coach Lawrence Frank has said points to the team reassuring Prince that they would surround him with talent that could win and they are not. Plain and simple.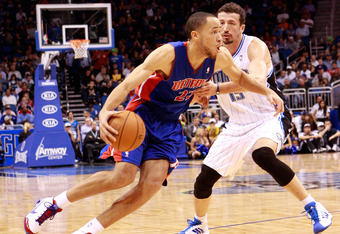 Sam Greenwood/Getty Images
So which teams will be calling come trade deadline day if Prince does become available?
Look for teams like the Los Angeles Lakers and the San Antonio Spurs to kick the tires on the versatile forward. But it could be a team like the Miami Heat that end up pulling the trigger.
Teams won't have to worry about character issues with Prince. Despite the possible trade talks, Prince has remained loyal to the Pistons organization. A move would be for the betterment of Prince and it may be time for the Pistons to reward the star by trading him to a winner.
Check back for more on the National Basketball Association as it comes, and check out Bleacher Report's NBA Page to get your fill of all things basketball.