Has Dwight Howard's Career with the Orlando Magic Already Peaked?
January 11, 2012
Kevin C. Cox/Getty Images
Since being drafted seven years ago, Dwight Howard has established himself as the NBA's undisputed top center, while leading the Orlando Magic to numerous division titles and an NBA Finals appearance.
"Superman" has taken home four All-NBA First Team honors, five NBA All-Star nominations and three consecutive NBA Defensive Player of the Year awards.
However, with all the uncertainty and rumors surrounding Howard's future within the organization and the inconsistent supporting cast around him, I would like to bring up a necessary question: Has Dwight Howard's career in Orlando already peaked.
Over the last few months, NBA fans have been glued to their television sets wondering if there have been any new developments in the Dwight Howard fiasco.
After saying for the last few years that Orlando is the place where he wants to pursue a championship, this offseason has definitely shed a different light on the matter, as Howard is obviously not very happy in his current situation.
A few weeks ago, Howard expressed his desire for a trade to either the Dallas Mavericks, New Jersey Nets or Los Angeles Lakers due to their "willingness" to build a championship roster and go after the coveted Larry O'Brien Trophy.
Whether or not winning is Howard's clear intentions, as many are wondering if Dwight envies a big market to expand his fame, has yet to be seen.
Even if Howard does not receive a trade out of Orlando, one thing is definitely for certain: Howard has accomplished everything possible with the Magic.
When looking over D12's extremely impressive resume, one can easily see that Howard is an absolute force on both sides of the court. The one glaring exception, however, is the absence of a championship ring.
He may only be 26, but one has to wonder if Howard is already feeling the pressure to avoid ending up like ring-less big men Charles Barkley or Chris Webber.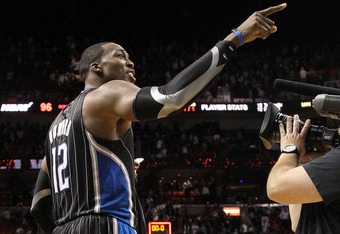 Mike Ehrmann/Getty Images
With the current roster Orlando possesses, it is sadly evident that the organization does not have a title-contending team.
They lack in many areas, including a second star to be "Superman's" sidekick.
Plus, the Magic don't contain nearly enough size, depth, athleticism and scoring ability to compete with powerhouse teams like the Chicago Bulls or Miami Heat.
A roster full of bad contracts and lazy veterans is definitely not a winning combination, and is probably not too enticing for the All-NBA center. 
Sure, Howard can keep stacking up on accolades and achievements that he has already accomplished in Orlando, but the championship ring is definitely a key piece he must acquire if he wants to achieve ultimate glory. 
Follow Hunter Konsens on his brand new Twitter for NBA news, rumors and stories.