MTV Caged: Cable Network Reaches New Low with Grotesque Fighting Show
January 10, 2012
MTV introduced a MMA style reality show on Monday night that had little to do with the sport.
Caged is a show about young kids in Louisiana that are dealing with life after high school. With few options for work, they turn to caged fighting in an attempt to become a success. Here is the official description from MTV.com:
For these modern day gladiators, every day is a fight to break free from the past, and to find their future. It's their chance to turn their lives around, and an opportunity to stand up and fight to make something of themselves.
This is a decent idea for a show if the producers worked for Spike or FX. The MTV producers in charge have a specific demographic to please. Viewers will be treated to the male version of the endless reality shows the channel has aired in recent years. Think Teen Mom with less babies and more blood.
The focus of the show is the drama and emotions of the fighters and the people in their lives. The actual fighting scenes are nothing more than filler to set up the next confrontation.
It's really just depressing more than anything else. One of the profiled kids claims there is nothing to do in Shreveport, Louisiana except "drink, get laid and beat some guys up."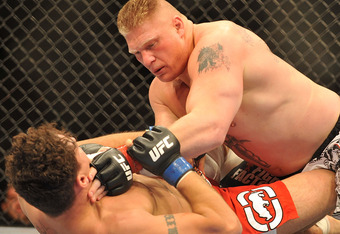 Jon Kopaloff/Getty Images
The same kid was later bragging to the cameras that he drank $100 worth of booze before puking. TMI dude.
If you are a MMA,UFC, or any sort of fighting fan that is considering this show, just remember that there are more battles with a fighter and his family/girlfriend than against other fighters.
So it's a show about fighting with words that's masked as a show about fighting with your fists.
If that's your cup of tea, tune in Monday nights at 10:00 p.m. EST. If you just want to watch compelling fights in the ring, stick to Spike, HDNET and PPV.