MTV Caged: Grass-Roots MMA Movement Proves Sport and UFC Are Here to Stay
January 9, 2012
Jon Kopaloff/Getty Images
Even non-fans of the teen dramas that MTV has become synonymous with can acknowledge that a show on the station about MMA means the sports has expanded to unbelievable levels.
MTV's Caged shows the lives of young fighters in Louisiana that just try to make it through life after high school. It fits in with the kind of template the station uses for shows, but it is the influence that show will have on the youth that will start the wheels of change in motion.
Just a few years ago, MMA was frowned upon in the United States and compared to cockfighting. The sport has come a long way in terms of shedding those initial stereotypes. Most of the thank you belongs at the feet of Dana White and the UFC for bringing the sport to the mainstream.
There has always been an underground phenomena, but there was never a system of training new fighters and always moving the product forward. UFC is a machine that is building and climbing by the day. They are taking the UFC to new places and instilling into the youths of America that fighting is an option in life.
As big as boxing used to be in the United States and how much fans love the contact of football wrestling, it seems natural that many people would find MMA interesting. While the taboo that once kept people away has been lifted, it has been viewed as bloodsport by some people.
This new MTV program will open a whole new generation of people to the sport that will grow up without that misconception. That means as the years go by, MMA as a sport and UFC as a company will continue to flourish.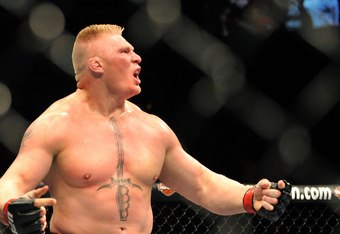 Jon Kopaloff/Getty Images
Imagine UFC being the NFL of MMA in a few years with just as many viewers. MMA isn't a fad; it's not going away.
When more and more teenagers start to take MMA classes and choose the path to fighting, it will become normal, and people will have no choice but to accept the sport.
My biggest concern for MMA is the long-term ramifications of each fighter's health and whether there is a point where it's deemed too violent.
Getting young people to accept it now will have them vouching for it later, so this is just the beginning of the full-on MMA revolution.
Check back for more on Mixed Martial Arts as it comes, and check out Bleacher Report's UFC Page to get your fill of all things UFC/MMA. For more on MMA/UFC, check out Ring Rust Radio for all of the hot topics.