Rihanna Sits Courtside at Lakers Game, Matt Barnes Flirts over Twitter
January 9, 2012
Hollywood may be known for its celebrity gossip, but one man has seemingly been hogging the spotlight as of late. From Eva Longoria rumors to pictures of Rihanna sitting courtside at yesterday's Lakers game against the Grizzlies, the news surrounding the new-and-improved Matt Barnes continues to accumulate and engage.
With her relaxed air, stellar shoes and everlasting smile prospering last night while watching the Lakers small forward cement himself into the starting lineup, a future relationship doesn't seem quite so baffling.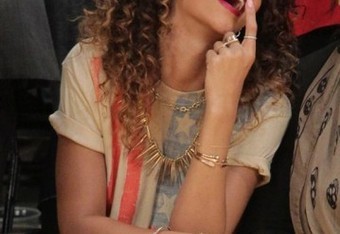 The former WAG of Dodgers outfielder Matt Kemp, Rihanna seems ready to test the basketball waters.
The most intriguing aspect of this story is undoubtedly the rise of Barnes and his leap towards the limelight. 
With Lamar Odom and Khloe Kardashian now in Dallas, Kobe Bryant now a bachelor and Phil Jackson now sitting on his couch during Lakers games, the spotlight demanded a new body.
Barnes not only supplanted himself as the starting small forward on a prolific squad, but he seems to have honed his love life as well. Proof of his appreciation for Rihanna's appearance became quite clear with the continuous tweeting that reeked of a flirtatious nature.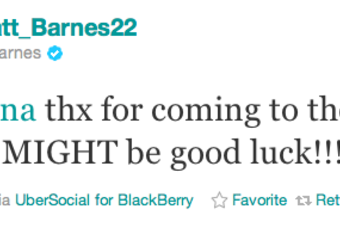 With athletes being as superstitious as they are, perhaps Matt Barnes believes the pop singer's good-fortuned aura brought luck to his game.
Only time will tell whether these two stars align.