Boston Red Sox Sign Another Starter: Aaron Cook
January 9, 2012
Doug Pensinger/Getty Images
According to FOX Sports' Ken Rosenthal, the Red Sox have signed former Colorado Rockies ace right-hander Aaron Cook to a minor league contract with an invitation to spring training. Should he make the big league roster,  Cook stands to earn a prorated $1.5 million, according to WEEI.com. Cook will be given the chance to join a gaggle of other low-risk signees in competing for the fourth or fifth starter role.
According to Rosenthal, new Red Sox pitching coach Bob McClure knows Cook. McClure was a minor league pitching coach for Colorado for six years (1999 to 2005).  Cook was the Rockies' second-round draft pick in 1997, and made the major league team in 2002. He spent parts of 10 seasons with the Rockies, and he is the only Colorado hurler to have pitched more than 1,000 innings. Cook also holds the team record for victories with 72.
During that span, he posted an ERA of 4.53 in some 1,300 innings. From 2006 through 2009, he averaged 187 innings per season and recorded a 4.11 ERA.
Boston fans may recall that Cook was the losing pitcher in the decisive Game 4 of the 2007 World Series. Cook allowed just one run through the first six innings, but World Series MVP Mike Lowell hit a two-run home run off him in the seventh, and Boston went on to win, 4-3.
Cook signed a $30 million deal covering the 2009-2011 seasons, but injuries plagued him for the duration of that contract. He lost a month in 2009 with a strained right shoulder, and the following year he suffered a broken leg when he was hit by a line drive off the bat of the Reds' Joey Votto.

In 2011, he battled shoulder issues again early in the season and later broke a bone in his fingertip when he slammed it in a door. His 97 innings in 2011 were his fewest since 2005, and it was no surprise when the Rockies chose not to pick up an $11 million team option for 2012, making him a free agent.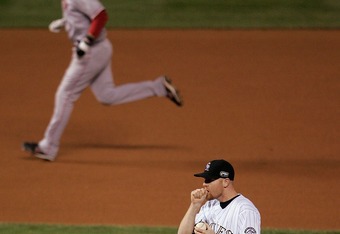 Jeff Gross/Getty Images
Cook had comparatively brutal numbers in 2010 and 2011, which undoubtedly made many teams leery of signing him. He posted a 5.08 ERA and a 1.19 strikeout to walk ratio in 2010, walking 52 batters in 127.2 innings. He followed that up with a 6.03 ERA and a 1.69 WHIP in 2011, walking 37 and only striking out 48 batters in 97 innings. 
So, why should Red Sox fans be optimistic about Cook's chances? 
First of all, he has one of the best sinkers in the game, and has produced a career ground-ball rate of 57.4 percent. The average MLB pitcher induces grounders about 44 percent of the time.
That would certainly be useful at Fenway Park.
More importantly, his deteriorating stats may not be a good prediction of his future performance.
There is pretty good evidence showing that pitching in Colorado produces more wear and tear on hurlers due to the altitude. Marc Normandin wrote an excellent analysis of that phenomenon for SBNation.com when he covered the Ubaldo Jiminez trade last year.
Normandin quoted former Baseball Prospectus writer Rany Jazayerli: "…one thing the Rockies have figured out--a finding backed up by medical science--in their decade in the mountains: as a result of the thin air, the body recovers from physical exertion slower than it does at sea level."
In 2004, when the Rockies briefly moved to a four-man rotation, Jazayerli wrote:
Mike Hampton threw eight shutout innings in his first start at Coors Field after signing with the Rockies, throwing only 98 pitches. The next day, he said, "I felt like I had been hit by a truck when I got up." The difficulty in recovering from each start was so debilitating that, before he was traded to the Braves, Hampton was planning to outfit his bedroom in Colorado with a pressure chamber so that his muscles might heal faster between starts.
Although Cook pitched more than 200 innings in 2006 and 2008, no Rockies pitcher has thrown three 200-plus inning seasons in a row in the history of the franchise.
The point is, getting Cook out of Colorado could be the best thing for his health. If he stays healthy, he could be a pleasant surprise to the Red Sox—at very little financial risk.