Talking College Football with Lou Holtz: Happy 75th Birthday, Coach!
January 9, 2012
Ronald Martinez/Getty Images
Lou Holtz is a legendary football coach who led Notre Dame back to prominence and is now a frequent commentator on ESPN College Football broadcasts.  The native of Follansbee, West Virginia turned 75 years young on January 6th. 
Last week, I had the opportunity to be a guest at the Discover Orange Bowl at one of the suites.  After watching the halftime show, I was heading out the door to buy my wife a gift, when noticeably standing out from the crowd in the back of the suite was a well-dressed gentleman talking to a number of guests.  He turns and I realize it is coach Lou Holtz smiling, answering questions, telling one story after another.
When you have a chance to sit in a suite at a BCS bowl game as a guest of the title sponsor, you never know who you may run into.  Lou Holtz is as upbeat an individual as you can expect to meet.  As a college football reporter, you always have a few questions read to ask for spur of the moment situations like this.   
Holtz has been a head coach in college football for 26 seasons, most notably at Notre Dame where he had a record of 100-30-2 and the national championship in 1988.  Holtz had also coached at South Carolina, Minnesota, Arkansas and NC State after his first head coaching opportunity at William and Mary in 1969.  He coached the New York Jets in 1976 before realizing that the NFL was not his place. After Notre Dame, he coached at South Carolina.  Twenty-one of the 26 teams he served as the head coach of played in postseason bowl games.* 
The second quarter of the Orange Bowl game was dominated by the West Virginia recovery of a Clemson fumble at their own 1-yard line, which was ran back 99 yards for a touchdown.  In covering Army football this year, we certainly saw a significant amount of fumbles and helmet-on-ball hits that turned around games.  San Diego State and Navy were two teams that stood out as aggressive on defense and special teams in trying to generate turnovers.  I asked coach Holtz if there has been an increase in turnovers this season because of aggressive defenses.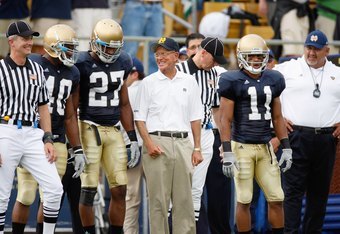 Gregory Shamus/Getty Images
Coach Holtz agreed in his response, saying, "Yes, teams are seeing success in trying to steal the ball from opponents and are doing more drills to encourage this."
A second area I asked about was the question of teams moving from conference to conference this year, particularly the move of West Virginia to the Big 12 and the teams from the western part of the country joining the Big East.  
Coach Holtz started his reply by saying, "Conferences are running college football," adding, "Conferences should be about academics, shared values and geography."
Coach Holtz then laughed and said, "I want to fire my college geography professor who said Boise State was in the west."
Later, in response to a question about being known to smoke a pipe, Coach Holtz said, "Have no other vices—don't smoke, don't drink, don't gamble."  He described a Christmas when he was a young assistant coach, newly married and didn't have any money. Smiling, he said, "My wife gave me a 50-cent pipe,"  which he obviously appreciated.
The one game I was at which Holtz coached at was the 1995 meeting between Army and his Notre Dame team at the Meadowlands in New Jersey.  Holtz coached that game from the press box as he recovered from a health issue.  Notre Dame went out to a 28-7 third-quarter lead, but Army, under head coach Bob Sutton, made a strong-fourth quarter comeback.  In the final moments, Army scored a touchdown to get back within one in the final seconds.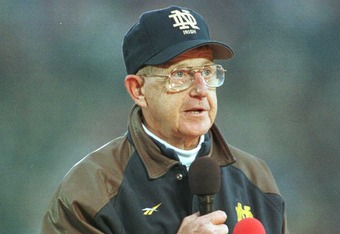 Matthew Stockman/Getty Images
West Point decided to go for the win with a two-point conversion. Army QB Ronnie McAda went back and threw to the right side to tight end Ron Leshinski.  The Black Knights' ball carrier sped towards the flag at the corner of the end zone. It looked from the upper deck of that corner where my Dad and I were sitting that Army was going to score.  At the very last instant, an Irish defensive back—Ivory Covington—rushed in and made the play inches from the goal line.  The Army runner was down just short.
Notre Dame won and improved their record to being eligible to play in a bowl that year.  The play is remembered as the "Seven Million Dollar tackle" because of the fee Notre Dame would take for playing in a bowl game. 
Wish I had thought to ask Coach Holtz what his recollection was about that play and famous moment.
Coach Holtz continued to take questions and patiently posed for photos with the group.  An aide came over and asked if he could visit another suite.  He mentioned about going to do the postgame show.  Before leaving the suite, he munched on a chicken wing.  Later in the week, I saw him on ESPN from another city.   
Certainly neat when you meet a well-known personality in college sports and they turn out to be approachable, friendly, upbeat and honest.
Happy Birthday, coach!
*http://conference.mesa.org/en/resourcesGeneral/HoltzLSpeakerBio.pdf
Ken Kraetzer covers Army football and Iona basketball for WVOX 1460 AM in New Rochelle, NY and Sons of the American Legion Radio.  Listen to the SAL Radio report every Monday at 2:30 p.m. EST on WVOX.com. Follow Ken on Twitter on SAL50NYRadio.