Blasting the Heat: Miami Heat's Title Year (Or Else)
January 7, 2012
Ronald Martinez/Getty Images
No, we really mean it this year.
That should be the motto of the Miami Heat organization for its 2011-2012 campaign.
It would be a mistake to call Miami the most hyped team in the history of basketball. The Miami Heat are the most hyped team. Ever. Last year the expectations were to start off directly with a ring ceremony and then play the season as a 100 game victory lap. And they fell two games short of accomplishing just that.
Now that it's the start of an exciting new season, both Miami Heat fans and basketball aficionados can only say one thing about last year's failed title run: Thank Goodness.
Thank Goodness that the Miami Heat weren't reward so early for a half-finished product.
Thank Goodness Pat Riley's penchant for casting senior citizens in supporting roles wasn't justified.
Thank Goodness Erik Spoelstra's attempt at letting stars dictate coaching didn't get him a ring.
Thank Goodness King James didn't earn his crown for playing the villain.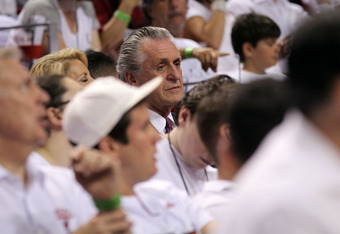 Mike Ehrmann/Getty Images
Although we're still early into the new season, this year's Heat team has one important distinction from last year: it actually looks like a team. From top to bottom, changes have been subtly and overtly made to give a feel that the starters as well as bench players are working on the same goal.
Starting from the top, there is Pat Riley breaking free from the NBA nursing home and actually keeping young, bench players on the team. Terrell Harris, Norris Cole, Dexter Pittman and even the injured Mickell Gladness are aggressive, un-jaded and growing talent. At the gym you can imagine the difference in having the Big Three practice with players that actually want to learn and grow.
Much credit has been given to Norris Cole and he deserves it for his non-stop engine and play making. But another reason he's also playing beyond his expectations is because he's a 20-something guy from Cleveland State who is playing with freaking LeBron James and Dwyane Wade! That's like a community college graduate getting their first job at the White House. Cole is playing with the best and giving veterans new looks they haven't seen before, reminding them of what it looks like to go at 100 mph in practice.
During the monotonous grind of an NBA season, rookies need veterans to learn how to adjust. Veterans, however, need rookies to remind them of—as the motivational speakers would phrase it—an attitude of gratitude.
Last year's Heat often looked bored, tired and annoyed with the regular season. Yes, that feeling was mostly because of all the animosity they received on the road. But it didn't help that you had a team of veterans who had seen too many road trip grinds to care about the Washington Wizards, or even their first round playoff opponent. When Gladness gets healthy they will have another big, young body to push the pugnaciously pudgy Eddy Curry in practice...and maybe even toward the salad bar.
And still old habits die hard (along with Juwan Howard's career). Riley didn't completely overhaul his elderly cravings. He kept Howard as a statesmen and tutor and added the much-lauded Shane Battier. Some times the Battier compliments feel excessive. Yes, he likes to study and he works on his game. Big deal, that's what he's supposed to do. But then you watch the slow-motion replay of his overtime shot block against Joe Johnson and something sticks out. The positioning of his body, the movement toward the basket, the elevation at just the right time. Everything is perfectly played.
While Mario Chalmers is the gorgeous woman with bad makeup, a trashy dress and questionable decision-making skills, Battier is the cute girl who does everything right, even down to her picking the right nail polish. His game is tight and right. His meticulousness will certainly benefit the rookies. Even Chalmers, who shows signs of brilliance amidst bizarre turnovers and missed assignments, might accidentally pick up on Battier's consistency. If that happens he would become an All-Star point guard (stop laughing). That alone would make Battier's contract one of the best steals in recent history.   
The next part about being a true team is having a team coach. Much maligned and denigrated, Erik Spoelstra is a warrior of consistency. If anything he some times sticks to his game plan too long. There was a rigidness to his approach that bordered on OCD. When it was clear that the Heat would need a full-team effort, he stuck by his preseason reasoning of letting the Heat's speed and athleticism win out. In 2010 preseason interviews he confessed to scrapping his offensive designs when he saw in practice the cool toy Pat Riley had created. That was a shame because here is a little known secret about Spoelstra: he's actually a very good coach. He's certainly farther along in his coach learning curve than legends like George Karl or even Phil Jackson.
Spoelstra was in awe of the Heat's fast break potential and made a well-documented promise to his team: if you get a rebound or turnover you could do whatever you wanted at the offensive end. This incentive made Miami one of the best defensive teams and gave fans hours of alley-oop highlights. But the long-term effects were clear in the post-season.
In many games last year the Heat would go into an half-court freeze. LeBron or Wade would dribble the ball around for 18 seconds and then hoist up a dazzling but high-risk shot. During the timeouts, Spoelstra would try to gently direct his stars toward running an actual offensive set. The stars would humor the coach for a possession or two. Often, however, they would return to their highlight reel basketball. Against well-coached defenses the cracks became more apparent. This year is only nine games in and the Heat have yet to face a healthy Boston or Chicago, but there are encouraging signs that they won't return to xBox hoops.
Spoelstra has the potential to be a legend in his own time, instead of just Riley' mind. For proof of that check out the recent Heat-Atlanta Hawks game. With Wade and James on the bench, it almost seemed as if the coaching staff remembered what it looked like to design plays again and expect them to be run as is.
The fourth quarter and overtime were a thing of coaching beauty, as Spoelstra smoothly switched between pick-and-rolls, double screens and iso-sets. You could see how one possession would set up the next...and the next. The Hawks players would take defensive gambles that played right into the Heat's play calling.
In a game that should have been a blowout win for the Hawks, they were schemed into a hard-fought tie at the end of regulation. That, by itself, was a moral victory, but then they kept scheming. If it wasn't for two consecutive Chalmers mistakes and rookie lapses, the Heat would have closed the game out in the first overtime. Instead it took an extra two periods and the Hawks surrendering at the end for the Heat to win. And it was a team win with an offensive and defensive game plan that back-ups carried out.
Better and more imaginative zone defenses won't allow for Heat freelancing this year. Spoelstra already knew this and the rest of the league is very aware. Finally it's the Heat players who are the last to receive the news. You have to play team offense almost all the time now. Call it pace-and-space or whatever you want, but fast-break and half-court offense has to fit into an overall vision to beat athletic, big-body teams that will clog the paint.
LeBron will have to put his Hakeem Olajuwon summer camp skills to use. The consistent post-up plays will be necessary to break the zone. And Bosh ain't doing it, so stop asking. The only one who has the body frame, vision and passing skills to do this is LeBron and he has taken up the challenge. While no one will mistake him for Karl Malone, King James has shown encouraging signs of basketball IQ growth. He's listening to his coach and it's paying off.
Last year was fun but left a bad taste in everyone's mouth. The Miami Heat were the cool, James Bond villain with amazing gadgets and a plan for world domination. They were fascinating, clearly intelligent and superior to almost everyone. But at the end you want 007 to beat the villain. The Dallas Mavericks were the slightly-goofy Bond with a license to kill the cackling Riley and his diabolical super team. Cuban and the Mavs played their part in a riveting drama that gave the NBA some of its highest ratings. But as basketball fans, it's always more fun to root for a team than to root against someone else's success.
This year the Miami Heat have a team that basketball fans can love and appreciate. They have youth, heart and ambition that could make a Cleveland fan stand up and cheer. Or at least grudgingly give a nod toward South Beach.