NHL All-Star Game: Why They Need to Get Rid of Fan Voting
January 7, 2012
Nick Laham/Getty Images
Let's face it, the NHL All-Star game has been less than exciting these past couple of years. There's no hitting, no defence, the goalies give up a lot of the easy goals and the players are only skating at half the pace they normally do. Can you blame them though? It is an exhibition game right in the middle of the season, when you are focusing on helping your team get to the playoffs.
If all that isn't bad enough, the NHL gives fans the option of choosing which players should be partaking in this game. I know the other three big leagues of North America (MLB, NBA and NFL) do the same, but isn't it time you actually see deserving players play instead of just home town fan favourites?
Let's take a look at who made the team's starting six this year and compare it to the league leaders in total points and goals.

First six voted:

11,D. ALFREDSSON RW - OTTAWA
TOTAL VOTES: 897,055

19, JASON SPEZZA C - OTTAWA
TOTAL VOTES: 817,483

9, MILAN MICHALEK LW - OTTAWA
TOTAL VOTES: 743,977

65, ERIK KARLSSON  D - OTTAWA
TOTAL VOTES: 939,591

3, DION PHANEUF D - TORONTO
TOTAL VOTES: 614,933

30, TIM THOMAS G - BOSTON
TOTAL VOTES: 626,540

With the game in Ottawa this year, I don't know if it's just me but this seems a little lopsided. Are any of these guys actually deserving of going to the All-Star game this year?
When it comes to total points, Jason Spezza is ranked 13th in the league with 15 goals and 26 assists, for a total of 41 points. To me that makes him at least worthy of getting to the game, but starting? No way. Not when you have guys like Daniel and Henrik Sedin near the 50 point mark, as well as Phil Kessel, Steven Stamkos and Evgeni Malkin.
But perhaps Jason Spezza is a good choice to start for at least one of the teams. There will need to be two centers and he is a hometown player, so for the sake of the Sens fans let's give them some credit and let Spezza be the starting center. But does he deserve to be flanked by not one, but two of his teammates?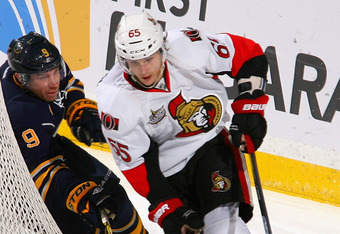 Rick Stewart/Getty Images
Those two teammates are Daniel Alfredsson and Milan Michalek. At least Michalek is one of the top goal scorers. He has 19 on the year but just 26 total points, which ranks him in the 80's. Does a guy who isin't good enough to be in the top 50 deserve to go to an All-Star game, let alone start it?
And how about Captain Alfie. At least he is in the top 50 in the league for total points, but I understand why he get's to start. The Sens fans wanted to give him one last good memory, before they completely tank their season and he retires at the end of the year. So in that case, sure, let's let Alfie start as well.
So far your starting forwards are a centre who is the 13th best scorer in the league, a winger who is about to retire and another winger who is only better than about 10 other players in the whole NHL.
Wow, they may as well change the name of the All-star game to "hometown hockey practices with some friends." That is seriously what the game has become when you let the fans vote. The hockey market for the Senators is huge. Therefore, with the game in their hometown, they are trying to elect as many of their players as possible, deserving or not.
At least they made the right choice with Tim Thomas of the Bruins in net. No complaints there whatsoever. He ranks seventh among goalies in the league in wins, but he has also the least amount of losses among starting goalies with only six. He has a tiny GAA of 1.90 and a fantastic .940 save percentage, which again ranks near the very top in the league amongst goalies.
I'm actually surprised that Ottawa goalie Craig Anderson didn't get voted in the top six with his 19 wins, which ties him for second best in the league. Hey Ottawa, you sure had a case there. What, didn't want to get greedy?
 As for the starting defensemen, what a surprise, another Senator shows up. At least when it comes to Erik Karlsson they got it right. This guy leads the league in scoring for defensemen with 37 points. Actually, he ranks 23rd in the league overall. This is probably the one of four Senators who actually deserves to start the game. Based on his stats and overall play he is an All-Star.
He will be accompanied by Maple Leafs defensemen Dion Phaneuf. As a Leafs fan it's great to see our captain make the roster. As an NHL columnist, I don't think he deserves to be a top six starter. There are a couple of guys that I would think deserve it over him, but again that's what happens when you let the fans vote, especially in the large markets like Toronto and Ottawa. I would have much preferred to see Phil Kessel starting over Phaneuf, but it's not up to me, not entirely anyways.
Because of the way the game is played now, there's no guarantee that these six guys will end up on the same team as it is now done by a draft. However, these six will be on the ice in one way or another when the puck is dropped in Ottawa.
The NHL needs to send the right people to the All-Star game and that means taking away the fans votes. Or maybe making the vote count for the final six players after the rest of the roster has been announced. I don't know if this would work, but at least you know that the guys who are working their butts off and having career years are going to get to add the tag All-Star next to their name.
If the NHL truly sent the All-Stars to the All-Star game, the starting six should have been:
Claude Giroux - Henrik Sedin - Daniel Sedin
Erik Karlsson - Shea Weaber
Jimmy Howard