'A Game of Honor': Army vs. Navy, Sunday 10 p.m. on CBS Sports Network
January 7, 2012
Rob Carr/Getty Images
A Game of Honor airs Sunday night at 10 p.m. on CBS Sports Network, and it is not to be missed.
When I originally talked to Showtime/CBS producer Pete Radovich Jr last summer about his first documentary project, he was very excited.  A Game of Honor, a behind-the-scenes look at the day-to-day life of the student athletes who play football at Army and Navy, was his subject, and there was no doubt that he was excited about the project.
This film is more than just about sports or the lead up to the Army-Navy game. It is about the mental, physical and emotional toughness that it takes to simply be a student at these two academies. In fact, you don't even have to know anything about the Army-Navy game to appreciate A Game of Honor.
Co-producer/director Radovich Jr. and co-producer Steve Karasik crafted a brilliant film that transcends sports with the use of multiple storylines that focus on the players, coaches, families and traditions that make up one of the most renowned rivalries in sports.
Navy coach Ken Niumatalolo talks about recruiting kids that must understand that playing football is just part of a life-changing experience when they come to Annapolis.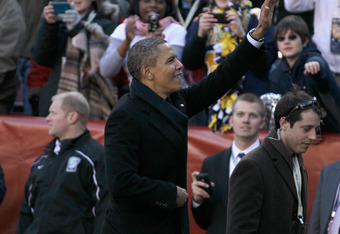 Rob Carr/Getty Images
There are many great player profiles, including one that features Navy quarterback Kriss Proctor going through the rigorous tests of training at Quantico to become a Marine. He is pushed both physically and mentally to the brink by his quest.
Radovich and his crew do a fantastic job of showing how football is the easiest part of the lives of these young men. From the bugle wake-up call that comes at 6:30 a.m., every moment of the day is planned out. Structure becomes commonplace to all who attend Army and Navy.
The phrase we hear so often during football season, that "these men are going to war," rings hollow after watching this film. After the Army-Navy game, the midshipmen and cadets get their service assignments.
A week before the show aired for the first time on Showtime, I talked to Radovich about the final project, which he was kind enough to allow me to preview. He said, "I really hope that the viewers will get a sense of how very special attending these to fine academic institutions really are."
Mission accomplished Pete, and job well done.