NFL Playoffs 2012: Jim Harbaugh and the 49ers Are Built to Win in Green Bay
January 7, 2012
Rob Carr/Getty Images
No one in Green Bay wants to hear this, especially given what took place the last time these two teams met in the playoffs (see Steve Young to T.O.), but if things play out as they should this postseason, we should be seeing another San Francisco 49ers victory if and when they meet the Packers.
Yes, the Packers do have arguably the best quarterback in the NFL in Aaron Rodgers, but if ever a team was built to go into Lambeau Field and defeat the defending Super Bowl champions, it has to be the 49ers. 
With guys like QB Alex Smith and WR Michael Crabtree coming into their own and combining with the skills of veterans like RB Frank Gore and TE Vernon Davis, the 49er offense can pose some problems for a much-maligned Packer defense.
Offensively, the 'Niners are adequate enough, but it is their defense which really helps put them near the top of the NFL. 
The 'Niners' defense is dominating enough to ensure a low-scoring game, which is good for a team that has won several low-scoring games this year. 
Stars like LB Patrick Willis have some new toys to play with in the form of guys like second-year star LB NaVorro Bowman and Defensive Rookie of the Year candidate LB Aldon Smith.
Speed and athleticism on special teams and on defense puts the 49ers in a great position to match up with a dynamic offense like Green Bay's.
The 49ers are a team built to win on the road and in the cold because they don't rely on an electrifying passing game to win games, but rather control the clock and run the ball early and often with Gore.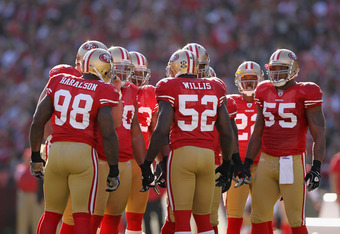 Ezra Shaw/Getty Images
For all of the talent they have on the field, there is one other area where their talent shines most, and it just might be the aspect of the team that makes the difference come playoff time: their coach. 
Love him or hate him (and boy did I hate him when he coached at Stanford), coach Jim Harbaugh knows how to get players angry enough at the other team and make them respond—sometimes violently, but almost always effectively. 
His defense is nasty, much like he is as a coach. 
More importantly though, his offense is designed to play keep-away. Short passes and tough runs make for easy third-down conversions—all of which use up a lot of clock.
It certainly is not easy to beat the Packers at home or on the road, but Harbaugh knows what it feels like to take on Goliath and win. 
Remember the self-proclaimed "greatest upset ever," when the Stanford Cardinal took down the mighty USC Trojans? 
Harbaugh's team came in as a 42-point underdog, but with a strong game plan that included a nasty defense, solid special teams and an offense that played keep-away all night, the Cardinal ended one of the most impressive home winning streaks in college football history. 
Anyone, the 49ers included, will be underdogs when they take on the Green Bay Packers, but if you take a good look at what Harbaugh was able to do a few years ago as a coach in college, you might just sense a little shiver going up and down the backs of Packer fans across the country.