NFL Playoffs: Is a Coach Interviewing During the Postseason a Distraction?
January 6, 2012
Handout/Getty Images
A simple truth is that coaches move from team to team looking for better opportunities or a chance to take a step up in their career. 
You can't blame a guy for trying to advance his career or better the life of his family, but how much of a distraction is it when it happens in the midst of a postseason?
It happens all the time. 
Jay Gruden, the offensive coordinator for the Cincinnati Bengals, is the heavy favorite for the head coaching position in Jacksonville.
This news surfaces just days before his team takes on the Houston Texans in a huge playoff game for both franchises.
Is the media swirl around him leaving going to be a distraction for his offense as they prepare to play against one of the NFL's top defenses?
One thing is for sure.  It won't help.
The fact is, the majority of coaches that are being wooed by other teams are in the playoffs.
It just makes sense that the best coaches are going to come from the best teams.
It is also a fact that teams that are looking to replace their coach at this point in the season are not in the playoffs and simply don't care if they are causing a distraction within another team's locker room.
They just want to snag their guy before someone else does.
The truth is that it is a distraction because while players know that their coach is leaving for a "better" opportunity, they will feel a sense of betrayal and lose motivation to fight for that coach. As players and professionals, they should be mature enough to still want to fight for their teammates, but that isn't always the case.
Coaches that interview for positions with other teams while they are still in their season are doing an injustice to their team. 
Yes, they have to lookout for themselves and secure a great opportunity when they get the chance, but they also should have some sense of loyalty to their current team and players.
After all, their current players are a large part of the reason that they are being courted by other teams in the first place.
Players can't talk to other teams during the season. 
Why should coaches?
The NFL does have rules in place to minimize distractions caused by assistant coaches interviewing, but they are not designed to stop it completely. 
Coaches are not allowed to interview during the regular season, but teams can request permission from a coach's current team for an interview during the postseason.
Teams are also allowed to interview coaches from playoff teams during the Wild Card Week if the coach's current team has a bye week, as is the case with Green Bay Packers offensive coordinator Joe Philbin.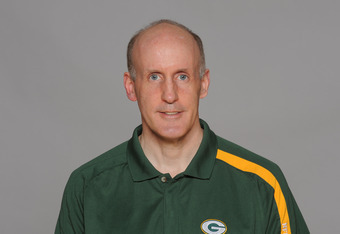 Handout/Getty Images
Philbin is taking advantage of this rule and interviewing with the Kansas City Chiefs and another undisclosed team, rumored to be the Jacksonville Jaguars.
As a coach at the NFL level, they have little or no personal time during the week as they prepare for a playoff game.
Interviewing for a job is a huge distraction and takes them away from their preparation.  
It's a distraction to the team, a disservice to the players and disrespectful to the game.
Follow me on Twitter @brettstephen