Tavon Austin: West Virginia's Speedster Shines on the BCS Stage
January 5, 2012
Streeter Lecka/Getty Images
Tavon Austin is good. 
Obviously, he's very, very good. 
Before last night, however, it may not have been so obvious to a lot of people outside the nucleus of the West Virginia fan nation.  Up until 8:30 last night, we lived in a Sammy Watkins dominated world.  Austin, at best, was an after-thought. 
While West Virginia had their share of the pregame coverage and popped up in a video montage or two, it was clear that Clemson was the media darling.  I'm not pointing fingers here but certain media outlets (cough, cough...ESPN) could not get enough of Sammy Watkins' physical tools and how they far outmatched any answer the Mountaineers could conjure up.  
Tavon Austin had something to say about all of this. 
Simply put, Austin was sublime.  While Sammy Watkins failed to break away from West Virginia's supposedly hampered secondary (only five catches for 66 yards), Austin ripped his way through Clemson defenders time and time again. 
Whether he was lined up as part of Holgorsen's 'diamond' formation or in his accustomed place in the slot, Tavon Austin was like the mist—rising up without warning, incapable of being caught or bottled up. 
With 117 yards receiving, 46 yards rushing, and a record four TDs, it was hard not to make the case for Austin as game MVP.  Just ask Mountaineers QB Geno Smith.  Upon receiving MVP honors, Smith deferred to Austin, whose theatrics, he believed, were the biggest reason he mustered up 401 yards and six touchdowns.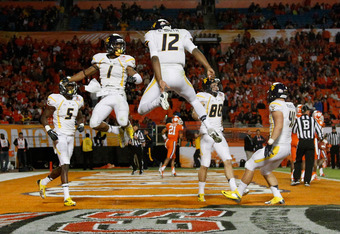 Mike Ehrmann/Getty Images
I certainly wouldn't argue with that. 
Austin is as deserving as any player in the country of big time recognition.  Yet time and time again, we hear the color guys mispronounce his name (I'm looking at you, Lee Corso).  It's not Tay-vee-ohn and it's certainly not Noel Devine, which he was called numerous times carrying the ball last year.
Then there's always the nagging issue of playing in the Big East.  It's safe to say that one's production seems less impressive when it comes against UConn or Rutgers and not, say, members of the SEC West.
Speaking of the SEC West, Austin did have 11 receptions for 187 yards against LSU.  Eh, who cares, right? 
While slight at 5-9 and 179 pounds, Austin plays with a big man's mentality.  He certainly doesn't fear contact and there certainly shouldn't be any questions about his durability, not when he plays as often and in as many different positions as he does. 
As good as he was last night and all season long for that matter, Austin still has one more year.  That's right: one more year along side Geno Smith and Stedman Bailey in this Holgorsen spitfire offense. 
Just think of the possibilities. 
This offense is truly just now beginning to blossom and West Virginia's big three (sorry Lebron) should be even more dangerous next year.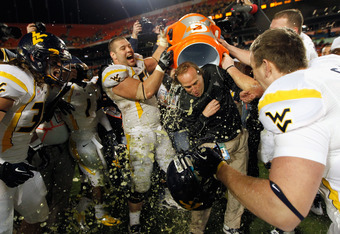 Streeter Lecka/Getty Images
the Orange Bowl performance that Austin put on last night is but the first of many big steps towards a prolific senior year. 
I'm sure you heard John Gruden call Austin "his guy" at some point last night.  While that's all well and good, he's still our guy.  the NFL will have to wait a year.
Was it all about Tavon Austin?  Of course not.  The Mountaineers showed up primed and ready in all three phases of the game. 
But in a game that was billed to feature the best, most exciting freshman in the country on a team that far outscored West Virginia in terms of athleticism, Tavon Austin stood up and stole every bit of Clemson's thunder. 
So now the rest of the country knows what West Virginia fans have known for the last three years: Tavon Austin is one of the best players in the country. 
Yes, I'm aware that he was an AP All-American.  But it was a third team mention for his achievements as an all-purpose player.  With his little publicity stunt at Sun Life Stadium last night, it would seem that Tavon has just validated himself for first team consideration next year in a major skill position.  
It's far too early to prognosticate as to whether or not West Virginia will take home another BCS trophy next year and what conference they will do it in.  We'll cross that bridge when it starts getting a little warmer outside.  
Dana Holgorsen and his boys can enjoy the fruits (no pun intended) of their labor, at least for a moment.  For Tavon Austin, that means he can reflect on the fact that in a blow out win over a favored Clemson squad, he was the fastest and most talented player on the field.  
So take a breather Tavon, you've earned it.  And don't worry about the spotlight, it's not going anywhere.