Tim Tebow, Isaac Redman and Others Who Will Fail in the Steelers-Broncos Game
January 5, 2012
Garrett Ellwood/Getty Images
The playoffs are when players make names for themselves that take them from average to superstars. However, these players in the Pittsburgh Steelers vs. Denver Broncos Wild Card Game will buckle under the pressure of performing on the big stage and will have horrific games that could lead to their teams' demise. 
Tebow, through the first seven games of this year, could make up for subpar passing stats by leading the Broncos to an amazing comeback. However, his last three games have led to some believing the Tebow magic may be wearing off.  
Before the Broncos' losing streak, Tebow was able to mask his erratic accuracy by never turning the ball over. In seven games, Tebow had a great touchdowns-to-interception ratio of 10:2.  
However, during the Broncos' three-game losing streak, he has seen this ratio dip to 1:4.  
Against the No. 1 passing defense, Tebow will struggle to move the ball through the air, which will lead to the Broncos struggling to put more than three points on the scoreboard. 
Isaac Redman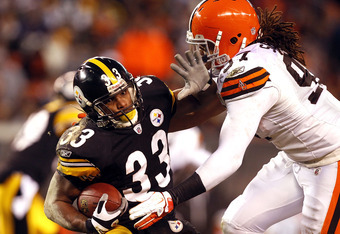 Matt Sullivan/Getty Images
Redman becomes the Steelers' feature back after Rashard Mendenhall went down to a season-ending knee injury.  
When Redman has come in for the Steelers he has played well. Last week, when Redman came in for Mendenhall against the Cleveland Browns, he had a very productive day of 19 carries for 92 yards and a touchdown.  
However, that was against the No. 30 rushing defense in the NFL that gave up 147 rushing yards per game to opposing running backs this year.  
Redman will have a bigger challenge this week against a Broncos defense that has only allowed two running backs to gain over 100 yards in their last five games. 
Von Miller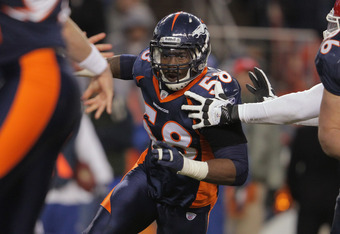 Doug Pensinger/Getty Images
Von Miller started this year as a candidate for AFC Defensive Rookie of the Year. However, since he suffered a broken thumb against the San Diego Chargers in Week 12, he hasn't been his same dominating self.  
Before the injury, Miller was a beast, leading this Denver defense by making tackles and putting pressure on quarterbacks. In his four games before the injury, Miller's tackle numbers increased every week, from five to 10. While the tackle numbers were impressive, Miller was able to accumulate 4.5 sacks.  
However, since the four games after his injury, Miller has seen his tackle numbers dip from five, then to one and last week to zero. Over those four games since he broke his thumb, Miller only has one sack.  
Miller's injury will keep him from putting pressure on Steelers quarterback Ben Roethlisberger and will prevent him from taking down Pittsburgh's speedy receiver, Antonio Brown. 
These three players will struggle in this game. However, for Denver, having two key players struggle on their offense and defense will be the reason why they do not advance in these playoffs.