Indiana Pacers vs. Miami Heat: TV Schedule, Live Stream, Spread Info and More
January 4, 2012
Andy Lyons/Getty Images
Two of the best teams in the NBA Eastern Conference take center stage tonight in Miami, as the Indiana Pacers (4-1) take on the Heat (5-1). 
The last time the Pacers came into Miami, Indiana blew the Heat out, 93-77. Indiana was able to hold Miami's Big Three in check, limiting LeBron James to just 25 points, Chris Bosh to only 21 and Dwyane Wade to three. 
However, the Heat did extract revenge in the Pacers second trip to South Beach when the Heat won, 117-112, but the Heat had to rally after being down 14 points in the fourth quarter. 
Where: American Airlines Arena, Miami, Fla.
When: Wed. Jan. 4, 7:30 p.m. ET
Watch: Sun Sports, Miami
Listen: Miami: 790 AM The Ticket, Indiana: WIBC 93.1 FM
Betting Line: According to 5Dimes, the Heat are an eight-point favorite. You should take the Pacers to cover in this game because they have the interior strength to handle Bosh and the interior play of the Heat. 
Key Injuries: According to USA Today.com
Indiana: F Jeff Foster is questionable with a back injury. Foster re-injured his back in the preseason and has missed three games this year. 
F Jeff Pendrgraph is questionable with a knee injury. Pendrgraph suffered a right knee sprain after tweaking his surgically-repaired knee during practice on December 10th. 
Miami: G Dwyane Wade is questionable with a foot injury. Wade was held out of Wednesday morning practice because soreness in his foot.
C Eddy Curry is out with a hip flexor
G Mike Miller is out with a hernia
What's At Stake
For both teams, a loss this early in the season will not ruin any of these teams' seasons. However, a win for Indiana will only boost the confidence for this young ball club that they can hang with the elite teams.
What They're Saying
Indiana: From the Indy Star:
The Pacers, off to their best start in six years at 4-1, have taken care of their business, even if they have not always looked pretty doing so.

The challenge gets significantly tougher tonight in South Florida when they face the Miami Heat (5-1) and their three All-Stars.

"We did what we had to do in the first games," swingman Dahntay Jones said. "Now we have to use the confidence we gained in those games and take with us against the Heat and Boston (on Friday)."
Miami: From the Sun-Sentinel:
The Miami Heat could be forced to play shorthanded. 

Guard Dwyane Wade did not participate in Miami's shootaround Wednesday morning because of a sore left foot, and he is a game-time decision for the Heat's matchup against the Indiana Pacers. 

"With so many games in so many days, we want to be smart about it and make sure we can treat it and move on from it," coach Erik Spoelstra said.
Indiana Player to Watch: Danny Granger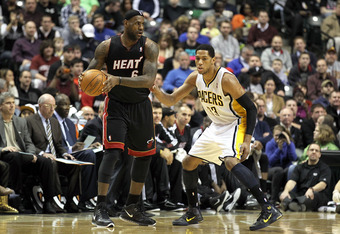 Andy Lyons/Getty Images
In their first meeting last year, Granger had a solid double-double with 20 points and 11 rebounds. Granger had a majority of his shots made in the fourth-quarter to help ice the victory for the Pacers.
On the year, Granger leads the Pacers in average points per game, with 17, and steals, with 2.2. 
However, Granger has to find a way to get hot tonight if the Pacers can expect to pull the upset victory over the favored Heat. 
Miami Player to Watch: LeBron James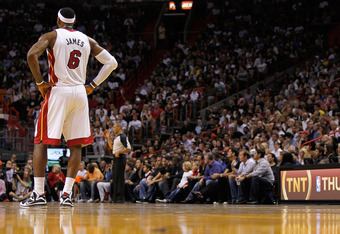 Mike Ehrmann/Getty Images
LeBron is the most talented player on the court. However, in their first meeting last year, he didn't do enough to carry his team when they needed him. His 25 points did lead all players in the game; however, he had a turnover differential of a minus-one and went 2-of-8 from three point range. 
This year, LeBron leads this Heat team in points with 29.3 assists with 6.5 and steals with 2.0. 
LeBron hasn't played that well at home, having the better stats on the road. In six total games this year, with three on the road and three at home, LeBron's average points per game on the road is 35.3 compared to 23.3 at home. 
James has to get hot and dominate this game, or else it will be another upset at home from the Pacers.
Key Matchup: Tyler Hansbrough vs. Udonis Haslem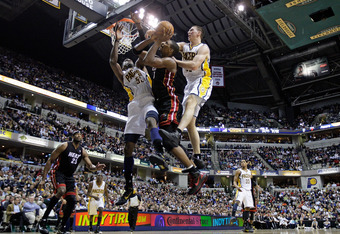 Andy Lyons/Getty Images
When these two teams met in Miami back in '10, Miami did not have Haslem. Because of that, Hansbrough was able to go off in the Pacers' second trip to Miami for 6-of-6 field goals with 6-of-7 free throws made, which equated to 18 points. 
In their third matchup, this time in Indiana, Hansbrough had another solid day shooting, going 6-of-11 on field goals and 4-of-4 from the foul line for a total of 16 points. 
Both games did not have Haslem guarding Hansbrough, which he will be tonight. It will be interesting to see if Hansbrough can have as solid of a game, like he did in two of their three meetings last year. 
Prediction
The Heat and Pacers played two very intense games last year, with Indiana winning in a blowout and Miami winning the next two by a total of 12 points. 
Because the Pacers have such an interior presence, it will keep this game very close up until the very end. However, because the Heat are at home and they have more talent on their roster, I have to give the edge to Miami in a close game. 
Miami 113-Indiana 109