NHL Trade Rumors: Why Blue Jackets Need to Make Trades Now Instead of Waiting
January 4, 2012
Frederick Breedon/Getty Images
Knowing that you are going to get traded is tough for a veteran player, like Columbus Blue Jackets R.J. Umberger. You have to uproot your family, find a new place to live and integrate yourself and your family into a new community.
However, being traded is bad, but the thought of being traded and waiting for it to happen is even worse. 
Shawn Mitchell from the Columbus Dispatch caught up with Umberger, as the Blue Jackets are floundering in last place in the Western Conference and own the worst record in the league at 10-23-5.
"It's nerve-racking coming to the rink and not knowing what is going on," forward R.J. Umberger said. "It's a lot of extra tension." 
However, Umberger isn't the only player who could be traded between now and the NHL trade deadline on Feb. 27th. Blue Jackets defenseman Marc Methot, who is a veteran of five NHL seasons, knows that this team could be completely ripped apart. 
"Teams that are at the top have certain areas of their game they can improve on, and they make moves, too, but when you look at a team in our position, sometimes the rosters are blown up. You're aware." 
From an article last week in the Columbus Dispatch, Blue Jackets GM Scott Howson recently spoke about who is going to be available to fellow NHL teams: 
Everything's on the table. We've got to look at everything. We've got to seriously look at everything. Now that's different than saying, 'I'm going to phone every GM tomorrow and say who do you want, (Rick) Nash, Carter or (R.J.) Umberger?' but we've got to look at the whole situation and we've got to consider everything.
The situation is bad in Columbus right now and the team has to be blown up.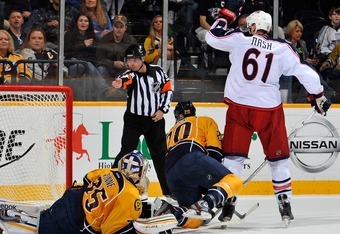 Frederick Breedon/Getty Images
They are going nowhere with the current roster they have, and that includes the face of their franchise, Rick Nash. 
It's never fun to see your most popular, or best, player traded to another team. However, when your team is as bad as this Blue Jackets team is, you have to make the smart hockey decision over the popular decision. 
Trading Nash either now, or at the trade deadline, would bring in at least two top-tier players on offense or defense, plus a first-round draft pick in the upcoming 2012 draft. Plus, getting rid of Nash would free up $7.8 million in cap space for the next five years.
Hopefully, for the players on the Blue Jackets they can get moved before the trade deadline. It will be the best for both situations so that they players can move on with their lives, and the team can get better.