LSU vs. Alabama: Tide QB A.J. McCarron Most Underrated Weapon in Title Game
January 4, 2012
Greg McWilliams/Getty Images
Trent Richardson, Marquis Maze, Dont'a Hightower, Mark Barron and Courtney Upshaw.  These are just a few big names on LSU's list of players to watch for.  Quarterback A.J. McCarron isn't on that list, but he should be.  
McCarron may be the most underrated player going into the title game, and possible in the entire SEC. I've touted McCarron as a great, young player with sky-high potential for a while now, so it's no surprise I'm continuing the trend. 
McCarron led the SEC in in quarterback ratings (149.80) as well as completion percentage (66.7 percent). Some try to say that's because he throws a lot of short passes, but they fail to realize you need solid yards per attempt for a high QB rating.  
McCarron had more yards per attempt (8.2) than Georgia's vaunted Aaron Murray (7.8).  Many of McCarron's yards came after short catches, sure, but he makes smart throws that will be productive after the catch. He doesn't throw to a guy who would instantly get popped by a safety.  That's something his predecessor, Greg McElroy, was quite guilty of.  
Receiver Darius Hanks appreciates this, as it was his job to get nailed on short catches, as displayed by this video.
He also doesn't throw a lot of interceptions, especially on the long, floating throws.  He throws it almost perfectly (leaving the rest to the receiver), and it will be a catch or nothing at all; there will be no interception on long throws.  He showed this in 2010 with a pass to Julio Jones, as seen here.  No one but Jones had a shot at that ball, as the long ball should be.
If his receiver can't get a hand on the ball, no one can.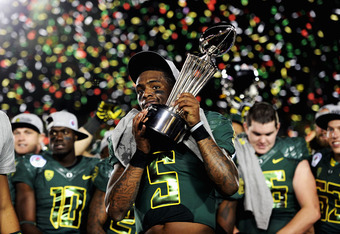 Harry How/Getty Images
Those are cool stats and all, but how much will it matter against LSU?  Fortunately, as fans, we have the luxury of knowing what McCarron can do against LSU by looking at what he already did.  Let's compare that to what the other big-time quarterbacks did against LSU.
| | | | | | | | |
| --- | --- | --- | --- | --- | --- | --- | --- |
|   | Comp. | Att. | Yards | % | Y/Att. | TD | Int. |
| A.J. McCarron, Alabama | 16 | 28 | 199 | 57.1 | 7.1 | 0 | 1 |
| Darron Thomas, Oregon | 31 | 54 | 240 | 57.4 | 4.4 | 1 | 1 |
| Geno Smith, WVU | 38 | 65 | 463 | 58.5 | 7.1 | 2 | 2 |
| Tyler Wilson, Arkansas | 14 | 22 | 207 | 63.6 | 9.4 | 1 | 1 |
| Aaron Murray, Georgia | 16 | 40 | 163 | 40 | 4.1 | 1 | 2 |
The first thing I have to say about this chart is this: Why do so many think Aaron Murray will be the best quarterback in the SEC in 2012?  Are we going off what the quarterbacks did against cellar-dweller teams, or the best team in the nation?  I ask this question because Murray looked like a fool against LSU.  
Second, Geno Smith's inflated numbers don't really count for much, in my opinion.  He has the same yards per attempt as McCarron, but people still remember him "burning" the LSU secondary.  With 65 passing attempts, was it really a surprise he racked up more than 400 yards?  Sixty-five passing attempts? Really?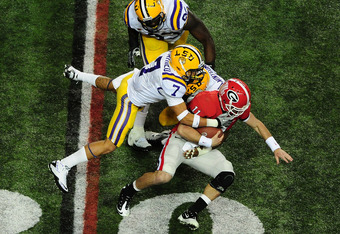 Scott Cunningham/Getty Images
Third, Tyler Wilson did quite well.  He is an All-SEC quarterback after all, but he also had four NFL-quality receivers at his disposal, a luxury McCarron did not have.  He and McCarron were both picked off once by LSU.  
Finally there is Darron Thomas, the quarterback for a team that narrowly lost last year's national championship but won this year's Rose Bowl against a powerful Wisconsin team (which he shredded, game recap here at ESPN.com).  He's got quite a reputation, so why did he flounder so awfully against LSU when McCarron did not?
McCarron's percentage could have been better, I'll admit, but many quarterbacks have won—and lost—big games with less than a 57 completion percentage.  Heck, New York Jets quarterback Mark Sanchez, who went to back-to-back AFC championships in 2009 and 2010, would absolutely love to complete 57 percent of his passes in a game.
McCarron also had no touchdowns, but much of that came to team breakdowns in the red zone, including a slew of unnecessary penalties.  Some were incurred by the offensive line.   
One could also make the argument that McCarron owes his yards to Trent Richardson's big receptions.  So what?  McCarron saw a guy wide open with a lot of green in front of him and made the throw.  He put the ball where it needed to be.  You can't knock on the guy for seeing an opportunity for yards after the catch.
The bottom line is this: A.J. McCarron is a threat to LSU and its sixth-ranked passing defense, and he practices each day against the nation's No. 1-ranked passing defense.  That includes safety Mark Barron and cornerback Dre Kirkpatrick, almost guaranteed first-round picks in the 2012 NFL Draft.  
He will be a dangerous weapon against LSU in the national championship game, just as he was against the Tigers in the first bout.  He hung with some of the best quarterbacks in the nation in the stats department, and out-shined most of them in certain categories.
Those other quarterbacks didn't have the running game and offensive line that McCarron has, and he looks to capitalize on that.
History just might repeat itself.  Florida and Texas underestimated Greg McElroy (and his broken ribs in the title game) in his first year starting and he made them pay.  Lest we forget: McElroy out-Tebowed Tebow.  
A.J. McCarron is in the same situation now, and he has fared better than McElroy did in his rookie year with the exception of a national title ring.
It's great to be an Alabama quarterback.  People seem to forget about you, and that makes it all the more sweet when you raise your arms in victory.