Robert Griffin III Is Medicine Cleveland Browns Need for Their Sick Offense
February 20, 2012

Ronald Martinez/Getty Images
This year's draft is the most important since the Cleveland Browns reopened for business.  Through smart draft management last year they positioned themselves with multiple draft picks with two in the first round at the fourth and 22nd picks.  Unfortunately for Cleveland, it will have to bundle those picks to move up to the No. 2 spot if it's going to draft Robert Griffin III. 
There are several needs for Cleveland at the No. 4 spot, but unfortunately for the organization, quarterback is among the positions up for debates. No team wants to head into a draft unsure of the quarterback spot.  The Browns may not have the opportunity to pick a potential franchise quarterback again, so will they pass up one that may fall right in their lap?
The good news for Cleveland is that one of the teams they would be bidding against will most likely secure their quarterback in free agency. The Miami Dolphins could quite possibly go get Matt Flynn out of Green Bay, which would leave the Browns competing against the Washington Redskins for RGIII.  With multiple draft picks in hand, the Browns would present the best package to move up.
Colt McCoy is not a terrible quarterback, but he is not a great one either. He is 22nd in passing yards (2733), 32nd in yard per pass attempt (5.9), 26th in passes past 20-plus yards (26) and 25th in passes of 40-plus yards (5.0). McCoy is not getting the ball downfield and is below average on most of his stats. His completion percentage is 26th at 57.2 percent.
There is not much the Browns are losing by inserting a rookie signal-caller in under center that has much more potential than McCoy has shown in two years.
Browns fans can be excited that they need a quarterback and are finally in a position to get an elite one. They are in a position to add a weapon at the most critical position that will improve the play of everyone around him.
Griffin will have an immediate impact in Cleveland simply due to his deep-throw accuracy and dangerous legs. He is more like Steve Young than Michael Vick—a passing quarterback that can run, not a running quarterback that can throw.  He can extend plays and presents a threat to any defense if he is on the move. Cleveland's version of the West Coast offense will take advantage of Griffin's mobility.
The best news for Cleveland's offense is that the tight ends will be just as important. Brad Childress loves to feature the tight ends in his offense and that is one of the Browns' strengths, their pass-catching tight ends in Ben Watson, Evan Moore and Jordan Cameron.
Cleveland had some troubles across the offensive line this year due to injury, but it gave young players a lot of playing time.  With the return of Eric Steinbach at left guard, the Browns line only needs a starting right tackle to have one of the best lines in their division. Steinbach, Joe Thomas, Alex Mack, and Shawn Lauvao can be a physical and athletic group. Jason Pinkston got a lot of valuable experience. Cleveland can get a starting right tackle to add to that group and that alone will improve the offensive production and protect a rookie signal-caller.
McCoy's mediocre play could be blamed on several factors like drops by receivers, new offense, short offseason,and any other host of reasons.  Those excuses fall on deaf ears when rookie quarterbacks like Cam Newton (84.5 quarterback rating) and Andy Dalton (80.4 quarterback rating) outplayed the second-year Browns passer. They both had the same obstacles and never took a snap in the NFL.  McCoy's quarterback rating was 74.6 and he threw only 14 touchdowns compared to 11 interceptions—worse than the two rookies. Newton threw 21 touchdowns to 17 interceptions, and Dalton threw 20 touchdowns to 13 interceptions.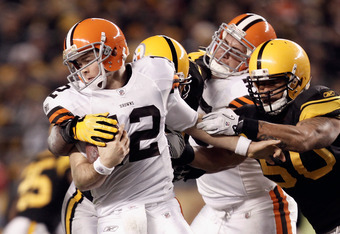 Jared Wickerham/Getty Images
When a team combines mediocre quarterback play with mediocre receiving and a depleted backfield, the offense is going to struggle. If the Browns draft RGIII they would have put a playmaker at the most important position on the field. No matter how great a receiver Justin Blackmon is or how strong a runner Trent Richardson becomes, neither would have the impact of a franchise quarterback.
How much impact on winning did Calvin Johnson have until the Lions drafted Matthew Stafford? Do the running backs and receivers make the Patriots, or is it Tom Brady?  How good did the Colts look without Peyton Manning? There is no argument about what position is most important on a football team, and the Browns are finally in a position to make a move to get the type of player they need under center.
A franchise quarterback will make everyone around him on the offense look better just like a mediocre quarterback will make everyone around him look worse.  Greg Little will get much more precise in his route running and present a physical threat. Joshua Cribbs is getting much better and has shown flashes of being a dependable receiver on slants and misdirection. There are several big-name free agents at the receiver position this year and the Browns just need one of them.
For Cleveland to be contenders it has to get a quarterback that projects on a whole other level to make the offense go to a whole other level. The Steelers, Bengals and Ravens do not game plan for Colt McCoy or Seneca Wallace, but would have to for Robert Griffin III. He is a weapon that would make the current receiving corps better. As much as people say the quarterback cannot be judged if he has no weapons, the receivers can say they would be better with another quarterback.
In today's NFL, rookie quarterbacks can come in and have immediate impact. There is no way the Browns are going to pass up a quarterback as accurate Griffin with Olympic speed.  He is also highly intelligent and will be able to pick up the Browns offense. Why would the Cleveland Browns pass up a player that is clearly better than all the quarterbacks they have on their roster?
Mike Holmgren is thinking the team should be at least 8-8 in 2012 and the following year push for the playoffs.  He is aware of the time it takes to develop a young team. He knows the receivers need to improve and the quarterback position needs an upgrade. He has shown he is going to build this team through the draft.
Of course, rumors are going to swirl about this or that free agent, but the Browns will not overpay for a high-priced free agent at the quarterback spot. They want to develop their own talent and playmakers in their system. The Browns will have several options on how to upgrade the quarterback position, but plan "A" will be get Robert Griffin III.